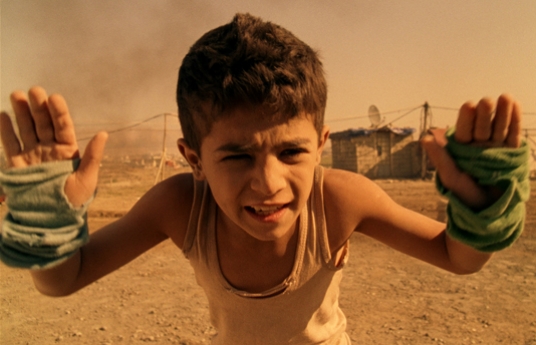 Download this press release
228 kB
With two screenings of 'Bekas' and five screenings of 'Wadjda'- back by popular demand after sold out screenings this weekend.
Doha, April 8, 2012: Katara, Cultural Village and Doha Film Institute (DFI) are pleased to announce the latest instalment of Katara DFI Cinema Series, 'Arab Voices', a programme celebrating the diversity of Arab culture featuring contemporary films from leading cinematic voices in the MENA region.
Films by ground-breaking Saudi filmmaker Haifaa Al Mansour and debut feature filmmaker Karzan Kader will run in April with a week of screenings of 'Wadjda' back by popular demand following the sell-out screenings over the past weekend, and a sneak preview of 'Bekas', two standout films in a pioneering year for Arab cinema. The films will be screened daily, with two showings of 'Bekas' and five of 'Wadjda' from April 18th to 22nd at Katara Drama Theatre in building 16.
Under the oppressive regime of Saddam Hussein in Iraqi Kurdistan, 'Bekas' tells the story of two homeless orphaned brothers who are inspired to travel to America after they see 'Superman' in the city's first cinema. They have no passports and no money – and their only means of transport is a donkey called Michael Jackson. With all the odds against them, they set out toward their dream, discovering on their journey that perhaps they are superheroes themselves. It was a crowd favourite at the Dubai International Film Festival where it won the People's Choice award.
'Wadjda', the first film ever shot entirely in Saudi Arabia, and the first Saudi feature directed by a woman, is the story of a fun-loving, entrepreneurial 10-year-old girl living in a suburb of Riyadh. When Wadjda sees a beautiful green bicycle for sale, she wants it desperately, but her mother won't allow her to have it, fearing repercussions from a conservative society, so Wadjda decides to raise the money herself. Just as she is losing hope, Wadjda hears of a cash prize for a Koran recitation competition at her school. 'Wadjda' won three awards at the Venice Film Festival where it premiered last year and has gone on to screen in 12 countries winning critical and popular acclaim. It was named Best Film at the Dubai Film Festival in December.
For tickets, Box Office timings and full films listing please log in to www.dohafilminstitute.com/arab-voices or visit the DFI Ticket Outlet in Katara, Building 26, from April 14th to 22nd between 1:00 PM till 7:00 PM.