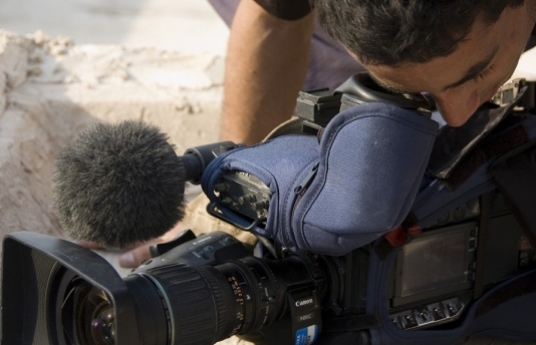 Doha, Qatar, 21 March 2011 – The Doha Film Institute (DFI) has joined hands with Al-Fakhoora project to provide students in Gaza (Palestine) with an opportunity to express their existence through short videos that they will write, shoot and edit.
This video workshop, mentored by Head of DFI Education Scandar Copti, has been developed with the aim to create a safe learning and educational environment for students to learn and experience the basic tools of making a short film of 3-5 minutes. As part of the program, eight students aged 18 to 21 receive weekly lessons through Skype conversations spread over a period of ten weeks. Along with teaching the technicalities behind filmmaking, the course will emphasize on the art of storytelling, from ideation to development and script to screen.
The program includes sessions on script writing for fiction and documentary, character development, technical aspects of shooting and direction, sound recording, pre-production and post-production, and editing amongst others to be able to develop their own individual film projects.
Commenting on the initiative Scandar said, "This is a fantastic opportunity to experiential and real-world learning to the craft of filmmaking. Al Fakhoora is an international campaign which aims to secure the freedom to learn for Palestinian students in Gaza and the West Bank and we are very proud to collaborate on such a novel initiative. Today's students will be tomorrow's leaders, and by supporting their voice at this stage we can contribute towards creating meaningful social change that brings communities together."
Al Fakhoora has four program areas that work on the ground to achieve its mission of supporting Palestinian students: Reconstruction, Prosthetics and Disabilities, Psychosocial Counselling and Scholarships. The Scholarship scheme is Al Fakhoora's flagship program.
Mr. Farooq Burney from Al-Fakhoora said, "The right to a quality education can bridge the gap between different cultures. There's a place in this campaign for all people who believe in the values of freedom, justice and mutual respect. We at Al Fakhoora, are tied together by the fundamental belief that young people everywhere deserve the freedom to learn. Our partnership with the Doha Film Institute will enable students to capture their everyday existence, and present to the world the importance of online learning in shaping the leaders of tomorrow."
Al Fakhoora, through its international and local implementing partners, has linked the provision of its educational scholarships with supporting interventions such as economic empowerment for scholars' families, career guidance, civic engagement and personal and professional development opportunities. In September 2011, Al Fakhoora will launch a third round of selection of beneficiaries for the Al Fakhoora Scholarship. The selection procedures are designed to ensure the selection of outstanding students who are able to perform well during their university life while, at the same time, contributing to the different activities expected from scholars in the Al Fakhoora Program.
About Doha Film Institute:
DFI is an independent cultural organization established to incorporate Qatar's film initiatives under one banner. Our many initiatives range from film funding for MENA and international films, production to year round educational programmes, film screenings, as well as the annual Doha Tribeca Film Festival (DTFF).