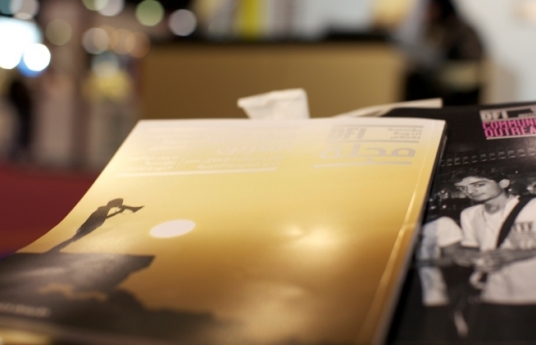 Doha, Qatar, 6 April 2011 – The Doha Film Institute (DFI) is participating in the 2011 Qatar Career Fair, as part of its mandate to develop a sustainable film industry in Qatar and the region. The DFI booth will provide local graduates, university students, academic specialists and parents information about the various employment, training, education and development opportunities available within the organisation.
DFI is part of one of the fastest growing global industries, creating new jobs and spurring innovation and creativity. Creative and knowledge industries account for nearly 4 % of the Middle East economy. Qatar has experienced rapid economic and cultural growth over the years to become a role model for socio-economic transformation in the region. The State seeks to stimulate the private sector and develop a strong culture and knowledge-backed economy that generates value, both within the creative industries and in the wider economy beyond.
Highlighting the economic impact of creative industries on the global economy, DFI Founder and Chair Sheikha Al Mayassa bint Hamad bin Khalifa Al-Thani commented, "DFI not only has a cultural mandate, but is also part of Qatar's sustainable economic development. Creative institutions are a vital component of a diverse modern economy, and as we saw in the successful bid to host the 2022 World Cup, Qatar's economic outlook has never been brighter. Strong organizations of the 21st century can only be as good as the people who power them. I hope that DFI can contribute to Qatar's development of a leading industry as well as to the development of a leading workforce of tomorrow."
DFI is hiring across multiple departments to suit a wide range of disciplines and interests including Marketing, Communications, Administration, Information Technology, Event Production, New Media, Human Resources, Festival Operations, Finance/Accounting and Community Outreach. These recruitment initiatives furthers DFI's goals of creating, educating and attracting a skilled labour force in Qatar, as well as developing Doha as a cultural and film industry hub.
To coincide with DFI's growth in film financing, film education and year-round programming, DFI's recruitment initiatives expand in 2011 with the introduction of the Graduate Development Program. The Program, open to all students across universities in Doha, will offer graduates learning and training opportunities in key departments for a period of six months to a year. It is aimed at capacity development within the local community, offering fresh graduates hands-on training to further their skill sets and foster their competitiveness for potential careers.
"Graduates have helped develop the creative industries in Qatar and contribute to its growing reputation in the realm of knowledge, culture and arts", said DFI's Executive Director Amanda Palmer.
"DFI plays an important role in supporting the states cultural and intellectual vision, focused on capacity development, empowerment and talent exchange. There is a common misconception that DFI is only for filmmakers. In reality, DFI is just like every other organization – we have various departments that require many different skill sets. As such, DFI offers careers and training for people with a variety of interests and backgrounds. The work is diverse, engaging, and continually evolving, with many opportunities for students and graduates to apply their skills and contribute towards creating a thriving local film culture and a viable industry."
This year's Fair will also provide a Special Careers Edition magazine publication, designed to provide graduates and their families an insider look into the diverse career opportunities within DFI and the film industry. The Career Fair runs from April 10 to 14 at the Doha Exhibition Center. Get involved with DFI through the re-designed career section on the official website: www.dohafilminstitute.com .
About Doha Film Institute:
DFI is an independent cultural organization established to incorporate Qatar's film initiatives under one banner. Our many initiatives range from film funding for MENA and international films, production to year round educational programs, film screenings, as well as the annual Doha Tribeca Film Festival (DTFF).