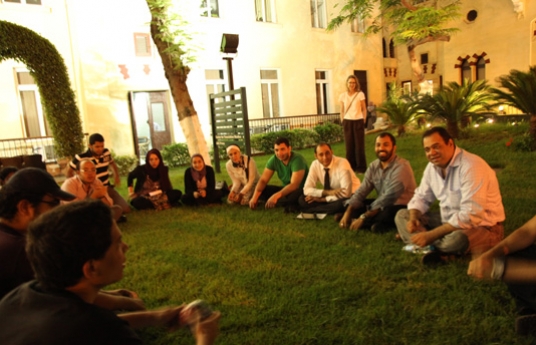 Week-Long Storytelling Workshops to Capture Essence of Revolutions Through Fictional Characters
Doha, Qatar 6 June 2011- The Doha Film Institute (DFI) has partnered with various regional educational and film organizations to produce a traveling workshop called 'Harrer, Harrer' (Liberate in Arabic), in which participants from different Arab cities tell personal stories through one-minute films, about the revolutions in their lives and in their home cities.
The week-long storytelling workshop will visit several cities in the region over the next few months to help train film enthusiasts on the importance of storytelling through fictional characters. The program will take place in Amman, Beirut, Cairo, Tunis, Marrakech and Jaffa amongst others in collaboration with the Royal Film Commission, Lebanese American University, American University of Cairo, Novadis Images, ESAV Marrakech and Sadaka respectively.
16 selected participants will come together in each city to create fictional stories that capture the essence of the recent events in the Arab world. The first 'Harrer, Harrer' workshop took place in Amman, Jordan, in collaboration with the Royal Film Commission where students produced nine one-minute films on political, social and cultural revolutions.
Scandar Copti, Head of DFI Education commented, "The 'Harrer, Harrer' program is part of a movement that supports voices from the Arab world and offers them a platform to tell their stories in a free and safe environment. The region has undergone unprecedented levels of socio-political expression, activism and change these past few months, and now there is an even greater impetus to have perspectives, stories and voices heard. We, as an Institute, bear a level of responsibility to ensure that people involved in these historical events are given the backing and support needed to bring their stories to the world".
During the course of the workshop, participants will learn and discuss storytelling techniques and character development; work together to create compelling stories and turn them into one minute screenplays; produce one-minute films based on their screenplays and act and crew in each other's films. Each film will be restricted to just one location.
The films produced as part of the program will be included in a traveling international exhibition launched at the Third Annual Doha Tribeca Film Festival, from October 25-29, 2011. They will also be distributed on an interactive web platform developed for the program.
Interested candidates need to submit a one–minute film script limited to one location to apply to the workshop. The sessions will be conducted in English and Arabic and there is no participation fee.
About Doha Film Institute:
DFI is an independent cultural organization established to incorporate Qatar's film initiatives under one banner. Our many initiatives range from film funding for MENA and international films, production to year round educational programs, film screenings, as well as the annual Doha Tribeca Film Festival (DTFF).