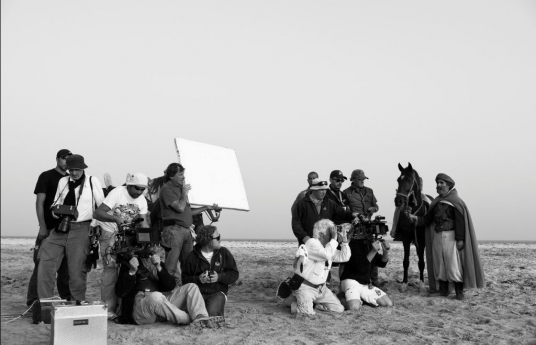 Download this press release
257 kB
Submissions Open for Aspiring Photographers until October 24 2011
Doha, October 17, 2011 – The Doha Film Institute (DFI) has partnered with prolific and internationally renowned portrait and reportage photographer Brigitte Lacombe to launch a new photography competition, the winner of which will be officially announced at this year's Doha Tribeca Film Festival (DTFF) (October 25-29).
The talented winner will be invited to join Brigitte on the set of the DFI funded production, 'The Reluctant Fundamentalist' by Mira Nair, on location in India, as she captures images from the film as part of DFI's 'In Production' photography series. On the set of the film, the competition winner will be given the chance to observe Lacombe as she photographs a movie in the making, learning first-hand about her documentary photography process.
DFI and Lacombe first connected in 2009 when Lacombe attended the inaugural DTFF. They then collaborated a year later on the "I AM FILM – Work In Progress' project, a dynamic multimedia exhibit that spawned from a mutual admiration for the stories coming out of the MENA region and a desire to profile the people behind them and take their faces to the world.
This year the DFI-Lacombe collaboration underwent further evolution with 'In Production' – a new series of work which sees Lacombe join DFI behind the scenes to capture the Institute's first year of co-productions. Having launched earlier this year on the sets of DFI's first feature co-production, Black Gold, 'In Production' will now move onto India this November, where Lacombe will document acclaimed director Mira Nair (Salaam Bombay!, Monsoon Wedding, Hysterical Blindness) and her crew on-location as they transform Mohsin Hamid's bestselling novel The Reluctant Fundamentalist into a feature film.
DFI's Executive Director, Amanda Palmer, explained that Competition is a case-study for the type of initiatives that the Institute will be looking to undertake in the future, leveraging and integrating its industry relationships to continue fostering local talent and providing training and development opportunities.
She said: "This competition marks an exciting new chapter in DFI's partnership with Brigitte, whose portraits have created iconic images of some of the most inspiring and interesting film talents from across the world, and now, DFI is thrilled to have her on board to mentor a photographer from Qatar in the art of on-set photography. With Brigitte, who started her career as a unit photographer on-set with film greats like Martin Scorsese and Sam Mendes, we really have someone who understands not only the craft but also the value of mentoring, and it's great that she is now in a position where she can give someone a life changing opportunity".
Brigitte Lacombe's work has appeared in numerous international magazines, including Vanity Fair, The New York Times, Newsweek and Time. For 30 years Lacombe has photographed actors and films from behind the scenes, with her unique talent and intimate style making her the choice photographer on many films, including Shutter Island, Gangs of New York and The Talented Mr. Ripley amongst others.
Competition entrants should submit up to 10 of their own photos (in digital format), accompanied by a written statement about why they are the ideal candidate for the DFI-Brigitte Lacombe mentorship opportunity. The winner will be announced during this year's DTFF.
Applicants must be 18 years and older and residents of Qatar. The winner will be selected by a panel of experts and entries will be judged on creativity and overall image quality.
About Doha Film Institute (DFI):
The Doha Film Institute (DFI) is an independent cultural organisation established in 2010 to incorporate Qatar's film initiatives under one banner.
Located at Qatar's new cultural hub, Katara, DFI's many initiatives include film and television funding for MENA and international films, year-round education programs, film screenings, and the annual Doha Tribeca Film Festival (DTFF).
In addition, DFI has established a number of strategic cultural partnerships with leading local and international organisations including Katara Cultural Village Foundation, Tribeca Enterprises, World Cinema Foundation, Maisha Film Labs and Giffoni Film Festival.
DFI was founded by H.E Sheikha Al Mayassa bint Hamad bin Khalifa Al-Thani. Along with Her Excellency, DFI leadership comprises DFI Board Vice-Chair and Festival Board Chair, H.E. Sheikh Mohammed Bin Fahad Al-Thani; DFI Board Member and Festival Board Vice-Chair, H.E. Dr. Hassan Al-Nimah; DFI Board Member, Mr. Mansoor Ibrahim Al-Mahmoud; Festival Board Member, H.E. Sheikh Jabor Bin Yousuf Al Thani; and DFI Executive Director, Amanda Palmer.