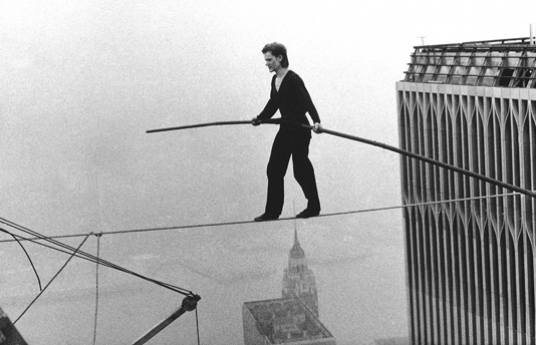 Download this press release
274 kB
Doha, 20 October 2013: On 24th and 25th of October at the Museum of Islamic Art Auditorium, DFI UK Cinema Showcase will screen its final film of the series, 'Man on Wire'. The critically acclaimed documentary swept over 25 international awards including Best Documentary at the 2009 Academy Awards, Audience Award and Grand Jury Prize at the 2008 Sundance Film Festival.
James Marsh's exhilarating 'Man on Wire' chronicles the infamous tightrope walk between the twin towers of New York City's World Trade Center conducted by Philippe Petit in 1974, and based on Petit's book 'To Reach the Clouds'. Marsh constructs the documentary like a heist film, using footage of Petit's preparations for his daredevil walk along with contemporary interviews of the participants. The film won the BAFTA for Outstanding British Film in 2009.
'Man on Wire' is a testament that some documentaries are just stranger than fiction. It is a breathtaking footage of one of the most daring dream fulfillment journeys ever told and is a great ending to a series laced with internationally acclaimed British films.
Mr Abdulaziz Al-Khater, Chief Executive Officer, Doha Film Institute, said: "This cinematic showcase, in partnership with the British Council and the Qatar Museums Authority to Celebrate Qatar UK 2013, has been a wonderful achievement for all of us. Together we have celebrated the rich ties between our two nations through our passion for arts and culture. Such strong and wide cultural exchange serves as the artistic inspiration that is vital to the development of sustainable creative industries in Qatar and we look forward to further strengthening the cultural bonds we share with the United Kingdom in years to come."
Martin Hope, Director, British Council Qatar said: "We are delighted to have been involved in showcasing some of the best and most iconic British film classics as part of Qatar UK 2013 Year of Culture. The past ten months have consisted of gripping, exciting as well as fun films which we hope have stimulated and increased the understanding and appreciation of British culture in Qatar."
For Tickets, box office details or any additional information, please log in to www.dohafilminstitute.com or visit the Museum of Islamic Art DFI Ticket Outlet (across from the MIA Auditorium). Tickets are priced at QAR 35 for the general public and a special discounted rate of QAR 25 for students. (Students must present a valid student ID to receive a discount. There is a maximum of two discounted tickets per person. Discounts are only available at ticket outlet locations).
DFI UK Cinema Showcase was launched in February, in partnership with the British Council and the Qatar Museums Authority, to celebrate iconic British films in support of Qatar UK 2013 Year of Culture.