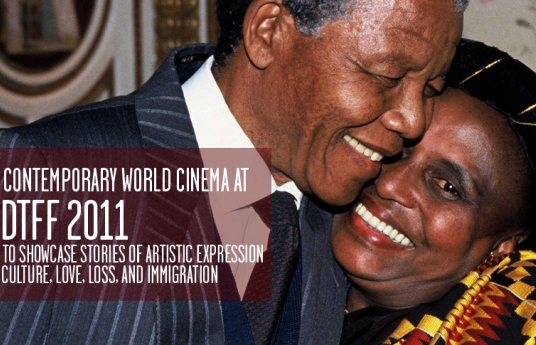 Download this press release
381 kB
Luc Besson's 'The Lady' Selected to Close Third Annual DTFF
Doha, September 28, 2011 – Looking to showcase a diverse range of films from across the World Cinema landscape, the Doha Film Institute (DFI) today released the titles that will comprise the 2011 Doha Tribeca Film Festival's (DTFF) Contemporary World Cinema programme (October 25-29). The news came as DFI announced Luc Besson's The Lady as the closing night film for the five-day Festival.
Starring Michelle Yeoh, David Thewlis, William Hope and Sahajak Boonthanakit, The Lady is an epic biopic depicting the real life love story of Burmese activist Aung San Suu Kyi's marriage to writer-academic, Michael Aris, as she fights against governmental oppression to instill democracy into Burma's political system. The film garnered acclaims from both audiences and critics upon world premiering at the 36th Toronto International Film Festival, and will make its Middle Eastern North African (MENA) premiere at DTFF 2011.
Luc Besson commented: "I am pleased and honored that The Lady has been selected to close DTFF, and that our premiere in the Middle East will take place in Qatar. I was deeply inspired and touched by Aung San Suu Kyi's personal story and her ongoing fight for democracy, and hope that through this film her cause and voice will be better known and shared with audiences around the world."
The 2011 DTFF Contemporary World Cinema programme, comprising features and documentaries, will offer audiences a rich variety of cinematic experiences across all film genres: from drama, romance, comedy and thriller to horror and creative documentaries, tackling relevant modern-day issues through an array of unique cinematic approaches.
Films in Competition include new titles from renowned auteurs including, Mika Kaurismäki (Mama Africa), Victor Kossakovsky (¡Vivan las antípodas!) and Pawel Pawlikowski (The Woman in the Fifth), as well as the works of emerging first-time filmmakers such as Hernán Belón (In the Open) and Tolga Karaçelik (Toll Booth), covering wide ranging subjects such as love and loss, pop culture phenomenon, political struggle, immigration and multiculturalism, musical icons, conceptions of identity, and the evolution of creative industries.
Selected features include: Michel Hazanavicius' black and white silent movie The Artist, which won star Jean Dujardin the prestigious Best Actor Award at this year's Cannes International Film Festival; Yasemin Şamdereli's directorial feature film debut Almanya – Welcome To Germany, which opened to rave reviews at the Berlin International Film Festival 2011, and Takashi Shimizu's unique Japanese 3D horror-comedy Tormented, a film that was produced on a budget of less than £1 million.
This year's Programme will shine an equally important spotlight on the varied works of documentary filmmakers from across the Globe, with: Fernand Melgar's powerful look at ilegal immigration, Vol Spécial; Morgan Spurlock's insight into fandom and pop culture, Comic-Con Episode IV: A Fan's Hope; and Mika Kaurismäki inspirational tribute to Grammy-winning South African singer Miriam Makeba, Mama Africa.
Several of the in Competition titles were also recently nominated as official country submissions for the Best Foreign Language category in the 84th Academy Awards including: Michaël R. Roskam's domestic box-office smash Bullhead (Belgium); Valérie Donzelli's critically acclaimed autobiographical drama Declaration of War (France); and Nadine Labaki's touching comedy-drama Where Do We Go Now? (Lebanon), which also snagged the Prix Francois Chalais at Cannes 2011 and won the prestigious People's Choice Award at this month's Toronto International Film Festival.
Commenting on this year's eclectic lineup, Executive Director of DFI, Amanda Palmer, who leads the programming team, said: "Every festival aims to discover new talent and connect audiences with something they've never seen before. Nearly every film in this Programme is a MENA premiere and our programmers have travelled the globe to curate a selection designed specifically for our local community and international visitors, bringing unique perspectives on the world. We have works by established and auteur filmmakers, but at the same time we have a strong representation from the next-generation, particularly women filmmakers, such as Nadine Labaki, Valérie Donzelli and Yasemin Şamdereli, who are exploring important issues like culture, immigration and family, in very moving and poignant ways.
"This year, we're also immensely proud to welcome Luc Besson to Qatar, with the screening of his latest work, The Lady, which is a stunning insight into the life of Nobel Peace Prize winning activist, Aung San Suu Kyi, a truly inspirational woman, who continues to strive for liberation, a theme and reality which will strongly resonate here in the Middle East in a year of profound political change, driven by the will of people."
DFI's Head of International Programming, Ludmila Cvikova, added: "The Contemporary World Cinema films competing for the Audience Awards this year form a colourful mosaic of works, dealing with relevant modern day issues, in search of original cinematic expression. We're really pleased to be able to bring such a wide range of extraordinary films to Qatar this year – from cutting edge indie thrillers to heartfelt dramas and creative documentaries – from the works of Takashi Shimizu and Pawel Pawlikowski, to the great documentary filmmaker Victor Kossakovsky. Many of them tackle very important matters – immigration and dislocation, religious tensions, human courage in the face of familial turmoil, and the nature of love and loss in a time of political unrest and social change."
Led by Amanda Palmer, the DFI Programming Team comprises Head of International Programming, Ludmila Cvikova, Chief Arab Programmer Hania Mroue, and Resident Filmmaker and Programmer Chadi Zeneddine. The Programming Team also receives advisory support from various cultural partners and consultants.
Contemporary World Cinema titles will compete for one of two Audience Choice Awards of Best Narrative Film and Best Documentary Film, the winners of both whom will receive cash prizes of US $100,000 each.
CONTEMPORARY WORLD CINEMA: FILM PROGRAMME
Almanya – Welcome To Germany (Yasemin Şamdereli) – Narrative (GERMANY, TURKEY) 2010
MENA PREMIERE
A charming cross-cultural comedy about three generations of German-Turks, Almanya is the story of a Turkish family living in Germany who set off together for their homeland. Moving across the past and present, the journey is full of memories, arguments and reconciliations, until the family trip takes an unexpected turn …
The Artist (Michel Hazanavicius) – Narrative (FRANCE) 2011
MENA PREMIERE
A visually enthralling homage to the early years of cinema, The Artist is a black and white silent film set in Hollywood in the late 1920s. In an ambitious and beautifully executed celebration of the silver screen we follow the last great silent film star, George Valentin and his relationship with a beautiful extra, whose star is on the rise in the talkie circuit.
Bullhead (Rundskop) (Michaël R. Roskam) – Narrative (BELGIUM) 2011
MENA PREMIERE
A crime-drama about Jacky Vanmarsenille, a young Limburg cattle farmer who is approached by an unscrupulous veterinarian to make a shady deal with a notorious West-Flemish beef trader. A confrontation with a secret from Jacky's past sets in motion a chain of events with far-reaching consequences.
Chinese Take Away (Un cuento chino) (Sebastián Borensztein) – Narrative (ARGENTINA, SPAIN) 2011
MENA PREMIERE
A delightful and heartwarming Latin American comedy, Chinese Take-Away is the story of Jun, a Chinese man who has just landed in Argentina and doesn't speak a word of Spanish, and Roberto, the grumpy shopkeeper who is forced to adopt him.
Comic-Con Episode IV: A Fan's Hope (Morgan Spurlock) – Documentary (USA) 2011
MENA PREMIERE
Morgan Spurlock explores the hopes and dreams of fans making the annual pilgrimage to Comic-Con – the San Diego convention which began as a fringe comic book meet in 1970 and has now become the pop culture event of the year. As we follow the aspiring punters we also meet the people who turned their passions into professions including Stan Lee, Joss Whedon, Frank Miller and Matt Groening and along the way, witness the spectacle that Comic-Con has become.
Declaration of War (La guerre est déclarée) (Valérie Donzelli) – Narrative (FRANCE) 2011
MENA PREMIERE
Based on the filmmaker's personal experience, Declaration of War is an intimate portrait of the struggle endured by a young woman and the father of her child when they find out their son has a brain tumor. Thrust from their young, carefree love into a harsh and unexpected chaos, the traumatic experience reveals their strength, courage and heroism.
Headhunters (Hodejegerne) (Morten Tyldum) – Narrative (NORWAY) 2011
MENA PREMIERE
Based on the best-selling novel by Jo Nesbø, this Norwegian crime thriller follows Roger, a successful corporate headhunter and secret art thief. He risks everything to obtain a valuable painting owned by a former mercenary and when things go bad, he is forced to run for his life.
The Hunter (Daniel Nettheim) – Narrative (AUSTRALIA) 2011
MENA PREMIERE
Based on the acclaimed novel by Julia Leigh, The Hunter is a powerful psychological drama that tells the story of Martin, a mercenary sent from Europe by a mysterious biotech company to Australia's Tasmanian wilderness on a dramatic hunt for the last Tasmanian Tiger.
In the Open (El campo) (Hernán Belón) – Narrative (ARGENTINA, ITALY, FRANCE) 2011
MENA PREMIERE
A young woman, Elisa, moves to the country with her husband and young daughter. She has a successful career, a happy family and plans for the future but when they arrive at the rundown provincial home, a strange feeling slowly takes over her and her sixth sense begins to awaken.
Mama Africa – (Mika Kaurismäki) – Documentary (GERMANY, SOUTH AFRICA, FINLAND) 2011
MENA PREMIERE
A documentary about the late, incredibly talented and charismatic South African musical icon, Miriam Makeba, who traveled the world with her powerful voice speaking a message against racism and poverty and for equality and peace. Mama Africa is homage to an extraordinary and impressive artist who, through more than 50 years of performing, incarnates the voice and the hope of Africa.
Toll Booth (Gişe Memuru) (Tolga Karaçelik) – Narrative (TURKEY) 2010
MENA PREMIERE
Kenan is a reclusive toll booth attendant living with his ailing father. His reclusive, humdrum life takes a dramatic turn when the newly appointed toll booth manager visits for supervision in this darkly comedic tale of miscommunication, isolation and father/son conflict.
Tormented (Rabitto Horaa) (Takashi Shimizu) – Narrative (JAPAN) 2011
MENA PREMIERE
Tormented ventures into the terrifying corners of the mind through a young boy whose family seems to be falling apart around him. He manifests a dangerous friendship and reliance on a stuffed toy rabbit that comes to life. Is he crazy; is his sister alive or dead; is their storybook illustrating father going insane or are they all delusional?
Where Do We Go Now? (W Halla' La Wein?) (Nadine Labaki) – Narrative (LEBANON, FRANCE, ITALY, EGYPT) 2011
GULF PREMIERE
Set in a religiously mixed Lebanese village during the fall-out from a distant war, this poignant fable centers on a group of women as they unwaveringly attempt to preserve their town in the midst of inter-religious tensions.
The Woman in the Fifth (Paweł Pawlikowski) – Narrative (FRANCE, POLAND, UK) 2011
MENA PREMIERE
American writer Tom Ricks comes to Paris desperate to put his life back together and win back the love of his estranged wife and daughter. Things don't go according to plan and when he gets involved with a beautiful and mysterious widow, an obscure force seems to take control of his life.
¡Vivan las Antípodas! (Long Live The Antipodes!) (Victor Kossakovsky) – Documentary (GERMANY, ARGENTINA, NETHERLANDS, CHILE) 2011
MENA PREMIERE
A breathtakingly original documentary which views the world upside down by visiting four pairs of locations which are diametrically opposite to eachother on the earth's surface. The pairs seem mythically connected, somehow united by their oppositeness: a peaceful sunset in Entre Rios to the bustling streets of Shanghai; fields of burning black lava in Hawaii to a village kiosk in Botswana – 8000 miles through the centre of the Earth.
Vol Spécial (Special Flight) (Fernand Melgar) – Documentary (SWITZERLAND) 2011
MENA PREMIERE
A powerful and moving documentary about the thousands of illegal immigrants and asylum seekers held every year at a Switzerland detention centre prior to being expelled from the country. Through the stories of six migrants, the film reveals the months of waiting, hope and despair and the relationships that form between the deeply human wardens, and immigrants at the end of their journeys.


About Doha Film Institute (DFI):
The Doha Film Institute (DFI) is an independent cultural organisation established in 2010 to incorporate Qatar's film initiatives under one banner.
Located at Qatar's new cultural hub, Katara, DFI's many initiatives include film and television funding for MENA and international films, year-round education programs, film screenings, and the annual Doha Tribeca Film Festival (DTFF).
In addition, DFI has established a number of strategic cultural partnerships with leading local and international organisations including Katara Cultural Village Foundation, Tribeca Enterprises, World Cinema Foundation, Maisha Film Labs and Giffoni Film Festival.
DFI was founded by H.E Sheikha Al Mayassa bint Hamad bin Khalifa Al-Thani. Along with Her Excellency, DFI leadership comprises DFI Board Vice-Chair and Festival Board Chair, H.E. Sheikh Mohammed Bin Fahad Al-Thani; DFI Board Member and Festival Board Vice-Chair, H.E. Dr. Hassan Al-Nimah; DFI Board Member, Mr. Mansoor Ibrahim Al-Mahmoud; Festival Board Member, H.E. Sheikh Jabor Bin Yousuf Al Thani; and DFI Executive Director, Amanda Palmer.