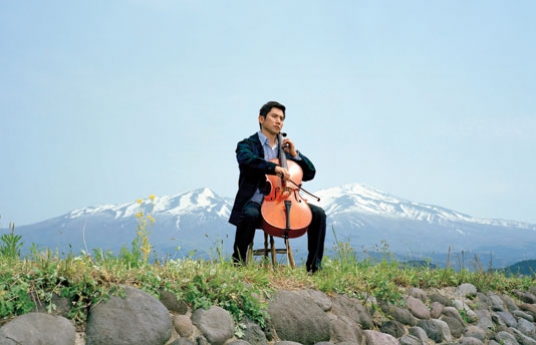 DFI

to Launch Year- Round Film Screening Series in Qatar;
Japanese Cinema Showcase to Present Wealth of Creative Diversity as Part of Qatar-Japan 2012
Doha, 19 March, 2012 – Audiences in Doha hungry for lesser-known films that may not necessarily reach commercial cinemas will now be able to view films that expose them to new tastes and to filmmaking communities that deserve recognition for their immense talent and vitality, through Doha Film Institute's (DFI) year round film screening series. This series will be an alternative for Doha audiences to access a wider range of films that push the boundaries of narrative and style.
The programme launches with a showcase of Japan's rich and diverse cinematic traditions as part of Qatar-Japan 2012, in celebration of 40 years of diplomatic relations between the two countries. The DFI Japanese Cinema Showcase at MIA, in association with Qatar Museums Authority and the Japanese Embassy in Qatar, will screen for the very first time a selection of award winning films that highlight the vibrant diversity of Japanese cinema. This is the first in a series of year round screening initiatives by DFI, aimed at strengthening appreciation for the arts and contributing to the evolution of Qatar's rich cultural fabric.
Launching with the MENA premiere of Academy Award® Winner for Best Foreign Language Film, Okuribito (Departures) by Yojiro Takita, a series of classic and modern films, celebrating talent and industry trailblazers who have made Japan a leader in the entertainment industry, will provide audiences in Doha with a wonderful opportunity to discover world cinema.
Departures is a delightful journey into the heartland of Japan as well as an astonishingly beautiful look at a sacred part of Japan's cultural heritage. The film follows the profound and sometimes comical journey of an unemployed cello player who finds a new purpose and a new life in the business of preparing bodies for cremation, as he uncovers the wonder, joy and meaning of life and living. In addition to the Oscar ®, the film has won more than 60 international and domestic awards, including major prizes in Montreal, China, Hawaii, Palm Springs and a sweep of the Japan Academy Prize awards.
Ludmila Cvikova, DFI's Head of International Programming, said: "There is a dramatic shift in outlook and demand for good quality films that showcase the best in global film creativity and boost the cinema appreciation culture in Doha. Japan is responsible for one of the world's richest cinematic traditions, and our burgeoning Middle Eastern film industry can benefit greatly from experiencing the diverse genres that will be showcased. We are pleased to be part of this appreciation of Japanese culture and are sure that audiences will value the experience gained from our year round programming initiative."
Ambassador of Japan, H.E. Mr. Kenjiro Monji, said: "We are proud that our art and culture is being displayed for the people of Qatar and are delighted that Qatar Japan 2012 is helping to promote mutual awareness between our two nations. The people of Japan are also grateful that this will be another help for the tsunami relief efforts, in which Qatar made one of the largest contributions both financially and resource wise, under the initiative of H.H. the Emir Sheikh Hamad bin Khalifa Al-Thani. On behalf of the people and the Government of Japan I would like to express once again my sincere appreciation for the kind assistance".
Miguel Blanco, Project Leader of Qatar Japan 2012, Qatar Museums Authority, said: "This celebration of culture is another acknowledgement of mutual respect and admiration between Qatar and Japan, a friendship that has flourished over four decades. There are many mutual interests between both countries, from trade and business through to education and technology, but it is culture that really bonds us together."
The screenings of Departures will take place on March 29 and 30, and is supported by the film's Middle Eastern distributor Teleview International. Tickets go on sale from Sunday, March 18, on DFI's website: www.dohafilminstitute.com and at the DFI ticket outlets at MIA and Building 26, Katara Cultural Village. Tickets are priced at QAR 35 for general public and a special discounted rate of QAR 20 for students. A portion of all ticket sales revenue from the entire screening series will be donated towards the ROTA tsunami Relief Fund.
The DFI Japanese Cinema Showcase will run on the last weekend, Thursday and Friday, of every month from March to September 2012.
For more details, please visit: www.dohafilminstitute.com/events or www.qatarjapan2012.com
About Doha Film Institute (DFI):
Doha Film Institute: Incorporated in May 2010, The Doha Film Institute (DFI) is Qatar's first independent cultural organization dedicated to enhancing the cultural impact of film, improving industry expertise and building a sustainable film industry in Qatar. Since its inception, DFI has led Qatar's national mandate to invest into the development of the creative industries, and supports the country's 2030 vision for the development of a knowledge based economy. DFI's first major co-production included 'Black Gold', directed by Jean Jacques Annaud which was released in 2011 and 'The Reluctant Fundamentalist', directed by Mira Nair which is currently in post-production.