The Return (Vozvrashchenie)
DFI Cinema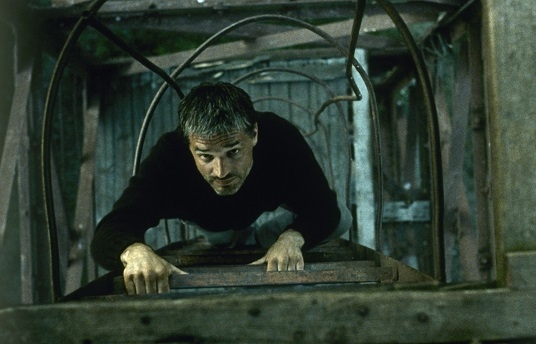 Come back soon to see screening dates
Synopsis
Inseparable, if occasionally quarrelsome, young Ivan and his elder brother Andrei are shocked and excited when their father, who has not been home for 12 years and whom the boys only know from a faded photograph, returns out of the blue. The morning after his arrival, Dad takes his sons on a fishing trip, but what might be expected to be an epic bonding experience turns out to be anything but.

As though trying to make up for lost time, Dad seems to throw every paternal trick in the book at his boys – from fondly supportive mentorship to brutal emotional manipulation. While Andrei naturally looks up to his father, Ivan is unconvinced and suspicious, and the dynamic among the trio becomes increasingly taut until inevitably it reaches a breaking point.

Director Andrey Zvyagintsev structures his film with clever precision to explore the psychology of its three characters – as the tension mounts, the narrative slows its pace, allowing the uneasy emotions that seethe beneath the surface of the drama to expand, drawing us into the anger, pain, resentment, guilt, and love that are the tragic result of abandonment.

About the Director
Andrey Zvyagintsev was born in 1964 in Novosibirsk, and graduated from the acting programme at the Russian University of Theatre Arts (GITIS) in 1999, under the tutelage of Evgeny Lazarev. He later went on to take part in independent theatre productions and had a few small parts in films and television programmes.

In 2003, Zvyagintsev shot his first feature-length film, 'The Return'. A debut not only for the director but for the majority of the crew as well, the film was accepted for the main competition at the Venice Film Festival, where it won the Golden Lion. It also took the Luigi de Laurentiis Lion of the Future prize for best first work, with the commendation: "a sublime film about love, loss, and coming of age."

His second film, 'The Banishment', was presented at the Festival de Cannes in 2007, when Konstantin Lavronenko became the first Russian ever to receive the festival's Best Leading Actor award.

Cannes also presented the international premiere of Zvyagintsev's third film, 'Elena', which took the Special Jury Prize in the Un Certain Regard section.

'Leviathan' (2014) was selected for the Official Competition at Cannes, and won the award for Best Screenplay. 'Leviathan' also became the first Russian film since 1969 to win the Golden Globe for Best Foreign-Language Film; it was nominated for the Academy Award in the same category, and took the Best Film award at the London Film Festival.

His most recent film, 'Loveless' (2017) has been nominated for an Academy Award for Best Foreign Language Film, and was selected for the Cannes Official Competition, where it won the Jury Prize at Cannes. It also went on to be named Best Film at the London Film Festival, making Zvyagintsev only the second director to have won
that award twice.
Credits
Director

Andrey Zvyagintsev

Screenwriter

Vladimir Moiseenko, Aleksandr Novototskiy-Vlasov

Editor

Vladimir Mogilevskiy

Production Designer

Zhanna Pakhomova

Music

Andrey Dergachev

Cinematographer

Mikhail Krichman

Sales Company

Intercinema

Cast

Vladimir Garin, Ivan Dobronravov, Konstantin Lavronenko