The Age of Innocence
DFI Cinema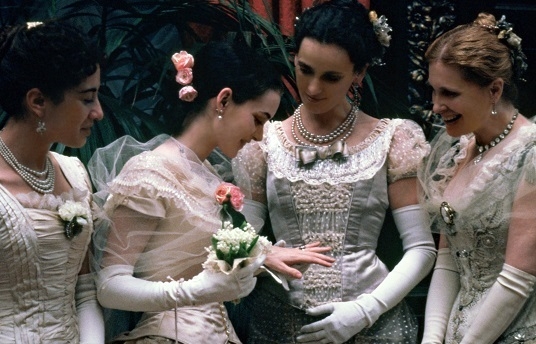 Come back soon to see screening dates
Synopsis
While Europe lurches toward decadence, the upper-class society of late 19th-century New York is bound up in codes and conventions that rival those of the court of Louis XVI. Conformity is the order of the day, and to step too far outside the ordained system is to become a pariah. Within this highly regulated setting, Martin Scorsese's adaptation of American novelist Edith Wharton's 'The Age of Innocence' examines the tragic love triangle of Newland and May, a recently engaged young couple from two of New York's finest families, and the disgraced Countess Olenska.

The film's mise-en-scène brilliantly reflects the regimented narrative context, for example through exquisitely controlled moments of symmetry (note in particular the many dining scenes) and acute attention to detail. Naturally, such rigour extends to costume; even the most subtle variations in outfit have notable impact. Note, for example, the arrival of the countess to dinner in scarlet, where she is surrounded by guests in more sombre evening wear – a sure sign of her flouting of convention. Similarly, the gauzy flounces of May's dresses contrasts with the more serious fashion of her contemporaries, reflecting the childishness she retains throughout the story.

This brief analysis aside, the costumes in the film are simply wonderful; it is no surprise the film won the Academy Award for Best Costume Design.