Mirror (Zerkalo)
DFI Cinema

Come back soon to see screening dates
Synopsis
Andrei Tarkovsky's 'Mirror', generally considered one of cinema's masterworks, is an ethereal pastiche of significant moments in the life of a dying poet. The film jumps among three discrete time periods, when Alexei, the film's narrator (although perhaps a more appropriate term here is 'central consciousness'), is a child in the mid-1930s, an adolescent during World War II, and very ill in his forties. Over the course of the film, we are witness to Alexei's memories and secondhand memories, dreams about his mother, newsreel footage of WWII and the Spanish Civil War and scenes of the present – all loosely drawn from Tarkovsky's own experiences and centring on family relationships and the recent history of Russia.
In experiencing 'Mirror', we are acutely aware that here, Tarkovsky is more interested in generating mood than telling a conventional story. Within a non-linear narrative structure, the film employs an approach to cinematography that unpredictably mixes colour, sepia-tone and black-and-white footage; sublime mise-en-scène; and some of cinema's most exquisite, stunning dream sequences. Poetry, written and read by the director's father, washes over much of this in voiceover, resulting in a glowing, otherworldly object that seems to have been constructed according to the logic of dreams.
About the Director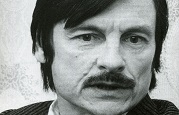 Born in 1932, Andrei Tarkovsky was a Soviet writer, film editor, film theorist, theatre and opera director, and is widely regarded as one of the best filmmakers in the history of cinema. His highly influential narrative feature-length films are 'Ivan's Childhood' (1962), 'Andrei Rublev' (1966), 'Solaris' (1972), 'The Mirror' (1975), 'Stalker' (1979 ), 'Nostalghia' (1983) and 'The Sacrifice' (1986). His films are notable for their metaphysical themes, a lack of conventional dramatic structure and distinctive use of cinematography, the methodology of which he discussed in his book on filmmaking, 'Sculpting in Time'. He died in 1986.
Credits
Director

Andrei Tarkovsky

Screenwriter

Alexander Misharin, Andrei Tarkovsky

Producer

Erik Waisberg

Editor

Lyudmila Feyginova

Music

Eduard Artemyev

Cinematographer

Georgy Rerberg

Cast

Margarita Terekhova, Oleg Yankovsky, Filipp Yankovsky, Ignat Daniltsev