Ida
Modern Masters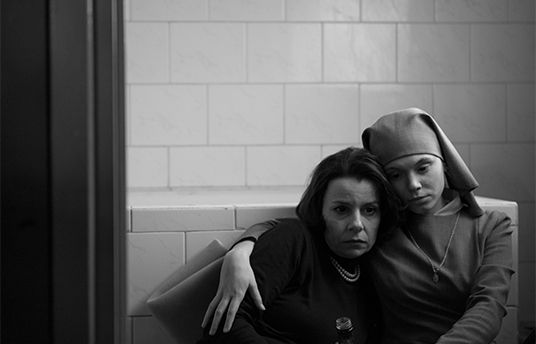 Screenings
Sun, Mar 17, 07:00 PM, MIA-A

Tickets sales closed
Synopsis
In the 1960s Poland, Anna, a novice nun is about to take her final vows at the convent where she was mysteriously left on the doorstep as a baby. Under the advice of her prioress, she is urged to first visit her aunt, and only surviving relative, Wanda Gruz—a chain-smoking and hard-drinking magistrate.

From Wanda, Anna learns that her real name is Ida Lebenstein and her parents were among the millions of Jews who vanished during the German occupation of Poland in World War II. This disturbing revelation triggers a journey into the deep countryside to Ida's family home and the long-buried secrets of a repressed past, recalling the tragic legacy of the Holocaust and the realities of postwar Communism. Using her shrewd investigative skills, the outspoken Wanda helps Ida discover her troubling past, ultimately leading the young nun to question her faith and future.

A modern cinema classic, 'Ida' is a poignant story compellingly told through haunting Bergman-esque shades of grey-and-white that linger long after viewing. Pawlikowski has a photographer's eye for composition, and every incisive, monochrome frame could be a portrait from Poland's distressing history. Concisely written and brilliantly acted, 'Ida' finds acclaimed director Paweł Pawlikowski revisiting his roots to breathtaking effect.

About the Director
Paweł Pawlikowski was born in Warsaw, and has lived in London, Germany and Italy. A graduate of literature and philosophy at London University, he started making short films during his postgraduate studies at Oxford, later joining BBC's documentary department.

In the late 1980s and 1990s, Pawlikowski was best known for his documentaries, whose blend of lyricism and irony won him many fans and awards around the world. 'Serbian Epics' (1992), made at the height of the Bosnian War, aroused a storm of controversy and incomprehension at the time but has now secured something of a cult status.

Pawlikowski's transition to fiction occurred in 1998 with a short 50-minute hybrid film 'Twockers', a lyrical and gritty love story set on a sink estate in Yorkshire. Among Pawlikowski's other acclaimed narrative works are 'Last Resort' (2000); 'My Summer of Love' (2004); 'The Woman in the Fifth' (2011), and 'Ida' (2015 Best Foreign Language Film Oscar).

His most recent film, 'Cold War' earned him the Best Director Award at the 2018 Cannes Film Festival. It also won five awards at the 2018 European Film Awards including Best Film, Best Director and Best Actress Awards.

In 2013, he moved back to Warsaw, where he continues to make films and teaches film writing and directing at the Wajda School. The masterful quality of his work across both documentary and fiction has established Pawlikowski as one of the most esteemed filmmakers of our time.
Credits
Director

Pawel Pawlikowski

Screenwriter

Paweł Pawlikowski, Rebecca Lenkiewicz

Producer

Eric Abraham, Piotr Dzięcioł, Ewa Puszczyńska

Editor

Jarosław Kamiński P.S.M

Production Designer

Katarzyna Sobańska, Marcel Sławiński

Co-Producer

Christian Falkenberg Husum

Music

Kristian Eidnes Andersen

Cinematographer

Łukasz Żal, Ryszard Lenczewski

Sales Company

Portobello Film Sales

Cast

Wanda - Agata Kulesza Anna - Agata Trzebuchowska Lis - Dawid Ogrodnik Szymon - Jerzy Trela Feliks - Adam Szyszkowski Mother -Superior Halina Skoczyńska Singer -Joanna Kulig Kaśka -Dorota Kuduk Bronia- Natalia Łągiewczyk Marysia - Afrodyta Wesela