About Elly (Darbareye Elly)
Modern Masters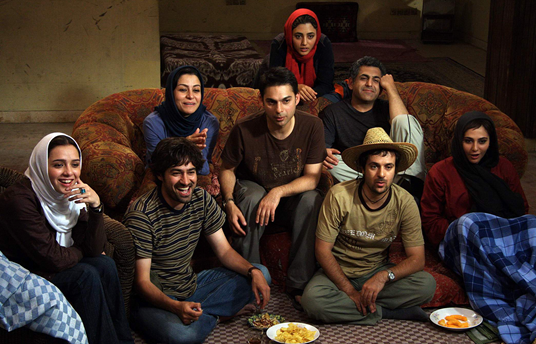 Come back soon to see screening dates
Synopsis
In his fourth feature-length film, which immediately preceded his 'A Separation', for which he received worldwide critical acclaim, director Asghar Farhadi employs the same respectful but unsettling examination of interpersonal relationships that characterise much of his work. Placing several middle-class couples – and a pair of singletons who are being subjected to a matchmaking exercise – in the limited space of a holiday house on the Caspian Sea, Farhadi creates a complex story that explores socialised gender roles, the impact of secrets and lies, and the dangers of manipulating others.

Relying on strikingly naturalistic performances (an evening's game of charades is particularly noteworthy) and a script that moves forward gently but with defined momentum, Farhadi takes us into an atmosphere that seems perfectly normal – charming, even – until, quite suddenly, gaps in understanding and expectations begin to show, and the placid drama takes a sharp and very disturbing turn.

The film's title is, appropriately, both enigmatic and something of a double entendre. Elly, who is the unknown, new friend among the group, occupies the centre of the narrative (to define exactly why is to spoil the narrative): she is by definition the primary character. And yet, the others revolve about her, never quite able to ascertain who she is. 'About Elly' is a deeply incisive and moving look at the failings and foibles of human nature.
About the Director
Asghar Farhadi made his first short film at age 13 in a youth cinema club. In 2002, he wrote and directed his first feature film, 'Dancing in the Dust' (2003), which won the Best Actor Award at the 25th Moscow International Film Festival and was named Best Film by the Russian Society of Film Critics', and also won Best Screenplay and Best Director prizes at the 48th Asia-Pacific Film Festival.

A year later, Farhadi made 'Beautiful City'. Following 'Fireworks Wednesday' (2006), he made 'About Elly' (2009), which had simultaneous world premieres at the Berlin International Film Festival and the Fajr Film Festival. It went on to win the Silver Bear for Best Director in Berlin and the Crystal Simorgh for Best Directing in Fajr.

Farhadi's next film, 'A Separation' (2011) took the Golden Bear for Best Film and two Silver Bears for its performers when it was screened at the Berlin International Film Festival. It went on to win more than 70 awards, among them the César for Best Foreign Film and both the Golden Globe and Academy Awards for Best Foreign Language Film.

In the same year, he was named one of 'Time' magazine's 100 most influential people in the world, and began work on the screenplay for 'The Past' (2013), which won the Best Actress Award at the Festival de Cannes and was nominated for Golden Globe and César Awards.

His most recent film, 'The Salesman' (2016), was selected for the Official Competition of the Festival de Cannes.
Credits
Director

Asghar Farhadi

Screenwriter

Asghar Farhadi

Producer

Asghar Farhadi, Simaye Mehr, Mahmoud Razavi

Editor

Hayedeh Safiyari

Music

Andrea Bauer

Cinematographer

Hossein Jafarian

Sales Company

DreamLab Films

Production Company

DreamLab Films

Cast

Golshifteh Farahani, Taraneh Alidousti, Shahab Hosseini, Merila Zarei, Mani Haghighi, Peyman Moadi
Contacts