Kash Kash - Without Feathers We Can't Live
Ajyal Competition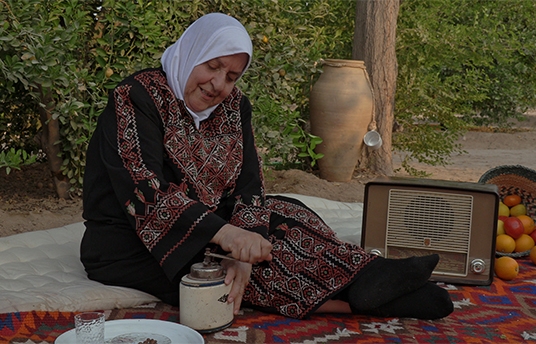 Synopsis
The filmmaker's hometown, Beirut, is torn apart by a corrupt political elite, anti-government protests, and one of the biggest explosions of the 21st century. But above the city's roofs soars an unexpected bearer of hope—the pigeon game of chance "Kash Hamam". Every evening, in the golden sun above the labyrinth streets, the sky populates, and all over the city swarms of birds fly out of their cages. Their flight follows the choreography of an ancient tradition. A game allegedly invented by embattled kings in the hope of saving their soldiers from the folly of war.

The rules are simple, with each player circling their flock in the hope of luring competing players' pigeons to join and land back on their roof for them to capture. But the game and its metaphor are far more complex. Despite the rising inflation and sky-high cost of bird food, dedicated players still lovingly raise, feed, and adorn their pigeons with colourful anklets. In a city facing unprecedented modern challenges, its people still manage to find solace through their long-held traditions in this moving portrait of hope in the face of despair.
About the Directors
Noor Al-Asswad is a budding Palestinian filmmaker whose works explore the multidirectional connections between memory, identity, loss, history, home, longing, land, and heritage. She was born and raised in Syria until she had to leave in 2012 due to the political turmoil. Her raw and earnest style invites the viewer to jump through time and perspective. She graduated with a Bachelor's in Mass Communication in 2018, and Her previous works include 'Noah' (2018) and 'Samha' (2017).
Abdullah Al Khateeb studied sociology at the University of Damascus. Prior to the Syrian revolution, he worked as an activity and volunteer coordinator at UNRWA and was the coordinator of the Youth Support Center in Yarmouk. He founded a social association with friends that is active in the field of humanitarian relief and carries out dozens of projects in several Syrian areas, most notably in the Yarmouk camp. He has participated in directing and filming short films that depict camp life. German magazine Peace Green selected him as a peacemaker in 2014, and he received the Per Anger Human Rights Award in Sweden in 2016.
Lea Najjar was born in Vienna in 1994 and grew up in Beirut. She graduated from the City International School in Beirut and received her Freshman at the American University of Beirut (AUB) in 2013. She has been studying documentary directing at the Filmakademie Baden-Wurttemberg since 2014, creating several short films that have premiered in numerous international festivals. Currently, she is in the production of her Diploma film, 'Kashkash' documentary feature film funded by the SWR Young Documentary and the Doha Film Institute.
Credits
Director

Lea Najjar

Screenwriter

Lea Najjar, Alia Haju

Producer

Matthias Drescher

Editor

Qutaiba Barhamji

Co-Producer

Marcus Vetter

Cinematographer

Jonas Schneider

Editor

Tobias Wilhelmer

Production Company

FFL Film- und Fernseh-Labor Ludwigsburg GmbH & Co. KG

Sales Company

MAGNETFILM GmbH

Sound

Rayan Al Obeidyine, Frederic Hellmann

Mixing

Daniel Kling

Composer

Farah Kaddour, Samah Boulmona

Mixing

Pierre Armand

Distributor

MAGNETFILM GmbH