Cinema by the Sea
Schedule
Fri Apr 28, 07:00 PM, West Bay Beach
Join us on the beautiful West Bay Beach for a fun, family-friendly cinema experience. Set along the shores of Doha's stunning skyline—DFI is proud to present 'Cinema by the Sea', an outdoor screening series of films for the whole community to enjoy.
---
Upcoming Screenings:
---

Please note a fee of 30

QAR

is required to enter West Bay Beach, which can be paid upon arriving at the venue. Children under 12 years can enter for free.



Friday, 28 April, 7 PM, West Bay Beach


Directed by: Carlos Saldanha
Captured by smugglers when he was just a hatchling, a macaw named Blu never learned to fly and lives a happily domesticated life in Minnesota with his human friend, Linda. Blu is thought to be the last of his kind, but when word comes that Jewel, a lone female, lives in Rio de Janeiro, Blu and Linda go to meet her. Animal smugglers kidnap Blu and Jewel, but the pair soon escape and begin a perilous adventure back to freedom and Linda.
Thursday, 4 May, 7 PM, West Bay Beach
• Emsahar by Hassan Al-Jahni
• Hope by Abdulla Al-Janahi
• Yahoota by Latifa Al-Darwish and Abdulaziz Yousif
• Khurshid by Mazen Shafea
• Al-Johara by Nora Al-Subai
Thursday, 11 May, 7 PM, West Bay Beach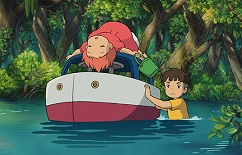 Directed by: Hayao Miyazaki
During a forbidden excursion to see the surface world, a goldfish princess encounters a human boy named Sosuke, who gives her the name Ponyo. Ponyo longs to become human, and as her friendship with Sosuke grows, she becomes more human-like. Ponyo's father brings her back to their ocean kingdom, but so strong is Ponyo's wish to live on the surface that she breaks free, and in the process, spills a collection of magical elixirs that endanger Sosuke's village.