TIFF Talk: Conversation with Jasmila Žbanić and Kym Vercoe
Sep 10, 2013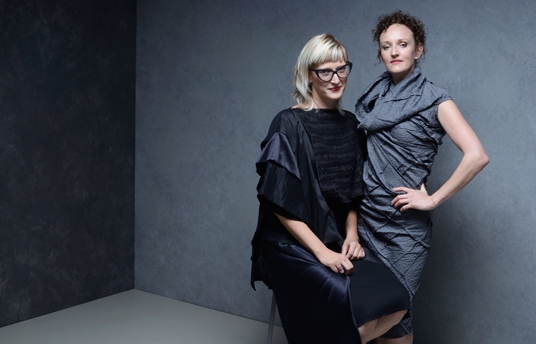 By Nicholas Davies
It's now 20 years since the Bosnian War, which tore apart Yugoslavia and saw some of the worst war crimes the world has known. Bosnian filmmaker Jasmila Žbanić sought to mark the two decades since the war with a film of some kind; the result is 'For Those Who Can Tell No Tales', a quietly devasting look at the atrocities that took place early in the war in the town of Višegrad, which is close to the border between Bosnia and Herzegovina and Serbia.
'I lived in Sarajevo during the war,' recounts Žbanić; 'and sometimes the war feels to me like it happened yesterday; then sometimes it feels like it happened a century ago. It was important for me to make something to say, OK, this happened 20 years ago. What is the country that we live in now? What are my feelings toward it now?' While searching for a story to satisfy this need, Žbanić came across a performance by Australian theatre artist Kim Vercoe entitled 'Seven Kilometres East' and suddenly everything fell into place. 'The show tells everything I feel about this country [Bosnia],' says Žbanić.
Vercoe's work is based on her own experience of travelling to Bosnia for a holiday. Based on the recommendation of the guide book she had with her, she visits the idyllic town of Višegrad and stays in the lovely Vilina Vlas hotel. However, she soon discovers the effectively unacknowledged recent history of this place – the town was the site of a horrific ethnic cleansing campaign that saw the deaths of more than 1,500 people, and the hotel was used as a 'rape camp', where hundreds of women were confined, raped and murdered. Shocked and horrified, Vercoe takes the time to process these horrors and find a way to commemorate the unnamed women and citizens who were killed as a result of this terrible episode of the war.
Žbanić approached Vercoe via email to suggest making a film of the show. 'I said, I'm Jasmila, I'm a filmmaker and I think your show could make a wonderful film. What do you think? I have no money, but I would love to do it,' Žbanić laughs. 'The email went to my junk box,' says Vercoe, 'which I very rarely check. But I saw this email from Jasmila from Sarajevo. I was at work, and I laughed very, very loudly. I knew Jasmila's film 'Grbavica' and I loved it, and you receive this email from a director who you think is amazing and they tell you they want to turn your work into a film … and you think, this will never happen.' But the women started talking and sure enough, two weeks later Vercoe was on a plane to Bosnia and shooting began.
Given its subject matter – systematic rape, ethnic cleansing, unpunished war crimes, and the fact that these have subsequently been ignored and, ostensibly, forgotten – it is no surprise that this is a very angry film. However, this anger never breaks through to the surface of the film – there are no lectures, no argumentative confrontations – rather, it simmers underneath, generating a tension between the terrible events that happened at Višegrad, and how to come to terms with them in the present. In order to make the film as powerful as it is, suggests Žbanić, 'we needed to let people conclude for themselves what has happened … without imposing our own judgement. We had a lot of scenes where this kind of judgement was present, but we took them out.' Says Vercoe, 'I very much agree. What we tried to do was try to hold someone's hand and take them and show them what I'm thinking and what I'm feeling. It's such a dilemma –because some people's way of moving forward robs other people of their ability to move forward. I would like the audience to have to grapple with that, and if we were to express all that anger, then we're spoonfeeding what we think is the answer.' In order to ensure that audiences can access the story, says Vercoe, 'we tried very hard to make a beautiful film – with these subjects, it's very easy to make a film that you can't bear to watch; you're too confronted with the horror.'
By not providing – or, perhaps, not fully allowing – this emotional release, the film doesn't provide a conclusion to this dilemma of processing such a horrific series of events. This lack of closure is one of the film's strongest assets – the audience leaves the film behind, but not the fundamental problem it is assessing: how do we absorb and process the horrendous things that people do to one another in wartime? This question is something that should not – must not, even – be given a final answer; it's a question we should continue asking ourselves in the hope that this type of tragedy can one day be a thing of the past.
Was Žbanić's personal attempt to come to terms with the war a success? 'War is not just one emotion,' says Žbanić. 'The project helped me visualise and deal with emotions that were buried in me, so it did help a lot. When we have the Bosnian premiere, I think there will be a lot of discussion about it in our society. It's something that people don't talk about openly. I have the feeling it will be very important in those terms, to define the country we live in and why we behave the way we do. It was a real healing process for me, making this film.'
'For Those Who Can Tell No Tales' was co-produced by DFI and had its world premiere at the Toronto International Film Festival this week. A full transcript of my conversation with Jasmila Žbanić and Kim Vercoe will be available on DFI's website in the near future.