Think, Feel, Act with Yasmine Al Massri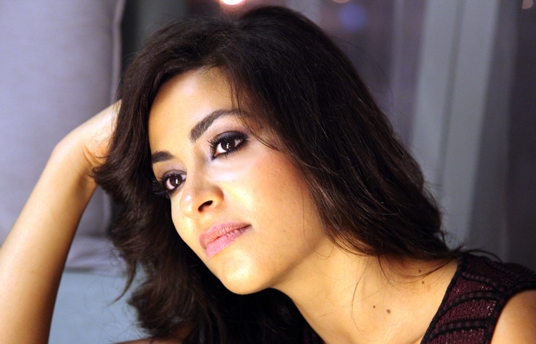 For three days, 12 Arabic-speaking women between the ages of 18 and 55 joined Yasmine Al Massri, who has appeared in the internationally acclaimed films "Caramel", "Pomegranates & Myrrh", and Julian Schnabel's highly anticipated Miral, for a course on acting, dancing, and story-telling.
Two Palestinian women travelled to Doha just to take part in the workshop. The group shared a private lunch with the actress and spent the next three days participating in activities to encourage self-expression, develop acting and dance techniques and promote self-confidence.
In the blog post below Yasmine shares her story with us and guides us through the process and aim of this workshop.
Throughout my childhood I was passionate about finding ways to express myself artistically because I was not a talkative person. When I arrived to Europe I joined a school of fine arts and spent the last ten years of my life working on myself and learning in many different countries and languages. Each time I attended one of these workshops, whether I was in London or Paris, I would ask myself, why am I not able to learn these things in Arabic in Arab countries?
It may sound cliche, but it really is my wish for every little Arab girl to have these opportunities because I consider that the true test for an evolving society remains in a woman's capacity of translating her own passions and knowledge through her own personal language.
In Europe, art and dance students have more techniques and skills, but in the Arab world we have more maturity, passion and emotions that are ready to be invested in manifestation and this can take you far in order to learn techniques and expressing yourself.
WORKSHOP
This particular workshop takes you through different stages that I call "the process", which is further divided into theory and practice.
The workshop always starts and ends with breathing. I grew up with my brothers in a sports club because my father bought it when we were very young. We learned since very early that a good brain needs a good body and I've spent my entire life cultivating this culture until it became my philosophy in approaching any person or situation. Breathing is the voice of a healthy mind and brain put together. It is the first step to listen to yourself, and listening to yourself is the first step to starting anything in life, in the same I'm the kind of person who reacts very intrinsically to my surroundings and situations I find myself in.
BODY CONTROL
The movement I taught the girls represents for me the key movements for body control, coordination and oriental dance. It is also a movement that is very simple and basic, but that is born out of the natural morphology of the human body, allowing many movements to develop. The stomach muscles have always been the center of attention in many cultures, as a motor of energy, as a belt to protect the back.
In pilots, a technique of working out that I've practiced for five years now, the main target of strengthening the stomach muscles is to connect the upper and the lower parts of the body together, balancing the body comes from being connected to your center, and the center includes a strong breathing stomach, which is why I concentrate a lot on this part of the body.
CONNECTING WITH OTHERS
An actor, a dancer, a performer, any human being, is first a social creature that needs to communicate through living with others. We need to adapt to the place that we live in life, which is why connecting to the other and to the space around you is one of the most important stages in my workshop. There are a series of different exercises that put students together in situations that create different awareness of themselves in relation to the space where they are with others.
SELF EXPRESSION
This game is about choosing words, and translating what these words mean for each students through drawing. Next, we share these drawings, reading them one by one and giving each illustration one word in a free narrative order. It is part of a self-expression exercise that uses simple methods like drawing and writing short stories, with the aim of hoping to transform a word to an image, and an image to a statement or movement. This can also happen in the opposite direction.
For me, art is an ongoing metaphor of our defining our relationship to the world and being able to express that is an artist's aim.
- Yasmine Al Massri