Their Colors are Qatari
Dec 12, 2010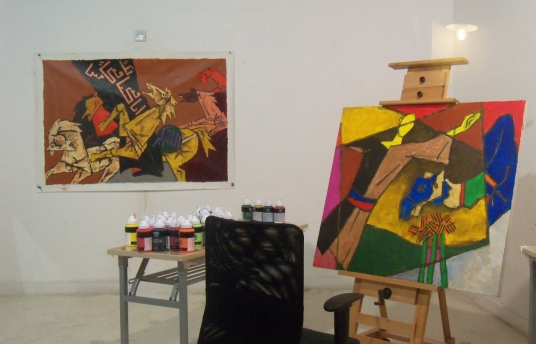 Ten Qatari artists have just finished painting two new works at "Their Colors Are Qatari", an exhibit happening all this week at the Wakif Art Centre.
Now that the individual works are finished, the artists will turn their attention to painting a shared canvas, where together they will express images of Qatar. Renowned Indian artist Maqbool Hussein, recently granted the Qatari citizenship, will add a final touch, creating harmony among the different styles of the other artists.
Spectators are welcome to see the montage take shape, at Souq Wakif any time this week.
One must for any visitor is a chat with Ali al Sharif. DFI followed Al Sharif into the exhibition's special saloon, where he filled the place with humor and laughter.
But he grew serious, when we asked him about his art.
"I like painting everything in relation with nature… such as the desert, the desert's plants and animal life, the people's activities in the desert, horses, Oryx…etc.".
But something was coming…
"Someone should stop the invasion of civilization for the desert", he said, adding "the desert is beautiful but a lot of it is being eaten by marble and stone, this affects the fauna and flora".
And then it sounded like he was talking to himself when he said, "Life was more beautiful and true before, we had a simple life, our desert was more beautiful".
We asked, "Are you against globalization?".
"No, I am not, but there is a big part of our nature that should be preserved from the civilization's creeping", he said, adding "…there should be a green line, just like in the US and the UK; it's not a wrong move".
See a shared canvas take shape, and hear your own insights from artists, all this week at the Souq Wakif Art Center.
Golden Times for Qatari Arts and Artists are upon Us!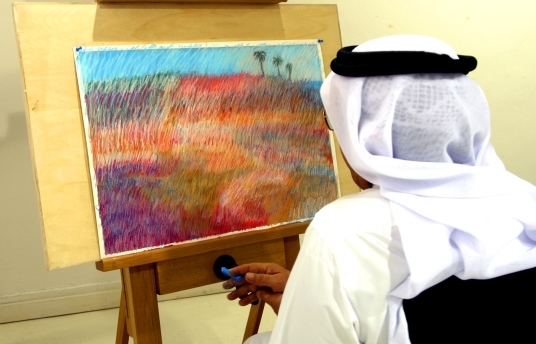 In Qatar's year as "The Capital of Arab Culture," and just a few weeks after the 2nd annual Doha Tribeca Film Festival, another occasion is upon us to celebrate art and culture in Qatar.
This new event, organized by Qatar Foundation's Cultural Development Centre (CDC), is a combination of workshops and exhibitions called "Al Wanhum Qataria", or "Their colors are Qatari", marking Qatar's National Day (Dec 18). From December 1-10, the Wakif Art Centre at Souq Waqif will welcome artists and spectators alike.
Ten accomplished artists and painters will occupy a studio at the Souq to make paintings on public display. And together, all ten will contribute to painting a shared canvas, each artist painting a section, and then passing the work on to another. Indian artist Maqbul Husain, who was granted the Qatari citizenship a little more than a year ago, will add his brilliant touch last, to create harmony among the different styles used by the other artists. After 10 days, of these live painting events, and exhibition of these works and others will continue from December 12 to 25.
Along with artwork, the exhibition will also include selections from the "Heritage Library". Originally a part of Qatar Foundation, The Heritage Library comprises some 85,000 rare books. Antique maps and manuscripts will be on display, along with digitized historical materials, and books preserved from the personal collections of early Qatari royalty.
Library exhibition officer Aisha Hassan al-Ansari told DFI that among other things, it will showcase the oldest Map of Qatar by, Ptolemy.
"Qatar was first mentioned in his Atlas in 1478 twice, as Catara then Katara (latin)", she added.
CDC arts program manager Hafiz Ali also told us that a "curator workshop" will take place December 10-11, for designing and curating exhibitions.
"Art students from Virginia Commonwealth will also attend with the Qatari artists", he said, adding "it is our way to promote the old and new generations of artists".
Ali also pointed out screens installed throughout the Wakif Art Centre, to showcase documentary films , telling the stories of Qatari art and artists.