Talking TedxDoha
Oct 04, 2010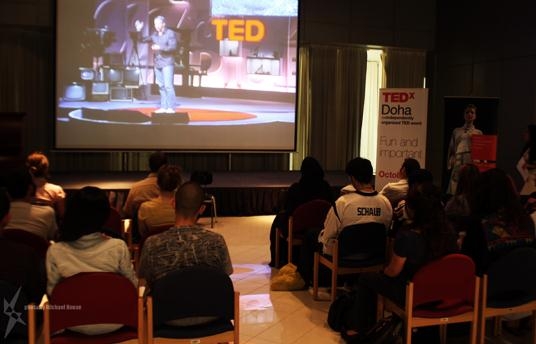 When the project manager from the public speaking conference TEDxDoha said that a meet-and-greet session educating people about TEDx was being scheduled at the Virginia Commonwealth University in Qatar, I wasn't sure why he chose to inform me. Then he explained that my background as a young Arab American made me the perfect choice to speak at the VCU event. And, um, by the way, he added casually, the meet-and-greet was scheduled for the next day.
WHAT! I was mortified! It was less than 24 hours away, and I couldn't remember the last time I spoke to a crowd in public, let alone to an audience in another country! But I couldn't say no, and so I started to compose some bullet points about the importance of TEDxDoha.
I wrote about how the largest-ever local TEDxDoha event was taking place on the 29th of October in conjunction with the Doha Tribeca Film Festival. By way of background, I mentioned how TEDx events can help a city by bringing great thinkers into the community and also finding great thinkers among their own residents. I wanted to tell the VCU students that TED, like the Doha Film Institute and Doha Tribeca Film Festival, believes in the power of exchanging ideas, the need for knowledge, and the importance of imagination.
The following day I headed over to VCU, still nervous as ever. I walked into the large atrium and waited a few minutes for people to arrive. The seconds ticked by like hours, and then it was time for me to start. As I began speaking, I noticed just how excited the fashion students were becoming about the event, especially when I mentioned Reem Acra was confirmed as a guest speaker at this year's TEDxDoha. The students had lots of questions, and they grilled me pretty well about TEDx and its importance to the community. I handled their questions like a pro, and they had absolutely no idea how much courage it took for me to even speak with them!
As I wrapped up my short speech, I thought, "Wow – that wasn't too bad!" I left that night feeling invigorated, filled with pride and a sense of accomplishment. I had really found a way to spread the word about TEDx and the Doha Film Institute, and I knew that once the students attended the event they, too, would feel a great sense of fulfillment.
Not a bad result for a little bit of nerves and stage fright.
.