People In Film: Samer Jaber
Mar 30, 2011
What does it take to work in 'the business'? Samer Jaber, a presenter and senior producer at Al Jazeera Children's Channel tells DFI about his new TV series scheduled to be broadcast later this year.
Samer Jaber studied filmmaking in Jordan before pursuing his passion for film at the London Film Academy in the UK. His first foray in "the business" was as a presenter at ART (Arab Radio and Television Network). He then moved on to directing music videos, advertisements and corporate videos for a variety of private production houses around the Middle East. In 2003 Jaber directed his first sitcom, entitled 'El Tahadi' (The Challenge). In 2005 he moved to Doha to work for Al Jazeera Children's Channel, where he has directed 5 TV series. He is currently a presenter and senior producer.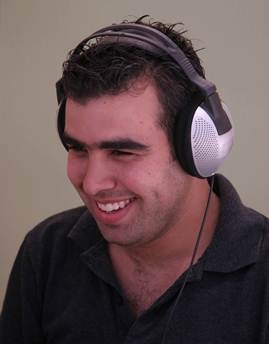 DFI: Thank you for taking the time to speak with us – I believe you are currently filming a series?
Samer: Yes, we are. We are working on the second season of 'Taymour', a TV series that is scheduled to be broadcast during the holy month of Ramadan later this year.
DFI: Sounds interesting! Can you tell us a little more about the series, and what encouraged you to make a second season?
Samer: We originally showed the first season last year, and it received a lot of attention. I think it was successful because children got attached to the main character, Taymour, who is also the series namesake. He is a childlike man struggling to find a job to support his sick grandmother, but unfortunately his innocence continually puts him in odd situations and makes it difficult for him to keep a job for more than one day. The second season expands to cover a different spectrum of the character: he owns a kiosk where people approach him to buy goods but he ends up, in his creative and innocent manner, turning everyday situations into unexpected events.
DFI: What inspired you to create such a character?
Samer: We created the character a long time ago, and tested it in one of the very first TV series I directed, entitled 'Ana Wa Ekhwatti' (My Siblings and I). We had 'Taymour' appear as a guest in a few episodes, and we knew immediately, from the success it received, that the 'Taymour' character is going to star our next series.
DFI: Writing a series must take a lot of time and several script adjustments before the final polished finish you show us. How do you go about writing a series such as this, and do you use more than one writer?
Samer: We try to encourage young writers as much as possible. We have a lead writer, and we conduct workshops where we brainstorm ideas where everyone writes scripts – we often end up with around a hundred scripts afterwards, which is great! We bring these writers in under the supervision of our lead writer, and for this series around 30 scripts were selected.
DFI: What are the challenges you faced while working on a TV series?
Samer: In any educational series, there are many elements that one should consider, especially when they involve children – we have a big responsibility towards them and our culture, and even more so when the series is out during a holy period such as Ramadan. One has to make sure there is a moral lesson, but told in a fun way so that children can easily understand it and learn from it. Combining these elements together is not as easy as it seems, which is why out of a 100 scripts we picked 30. The second challenge is that the series is in classical Arabic, which is difficult enough for adults, so again you can imagine it's harder still for children. We have to ensure we write it in a way that keeps the high standards of the classical Arabic language, but is, at the same time, accessible for all audiences. Then, of course, is the worry that our comedy will turn into something silly and the message will be missed altogether! Luckily, Ashraf el Awadi, the main actor playing Taymour, has managed to do a great job and get all of this across in his performance.
video#1
DFI: You have a lot of celebrities in the series, including a lot of Qatari actors. Can you tell us more about how you choose the talent for your series?
Samer: The series is filmed in Qatar, so it is only fair to ensure local talents have their time on screen. Not only that, but we try to give young emerging actors opportunities to be in the series: even if it's only in small roles throughout the season, they get the chance to appear more than once. It is rewarding for me, as a Director, to see new faces and talent evolving on the screen.
DFI: Talking of new faces, you called for a casting with DFI students from our acting workshops, and I believe you guided them all through. This is not usual for casting directors, is it?
Samer: Directors don't usually have the time to be with the actors in a casting call. I felt, however, that I needed to guide them and stimulate their sense of adventure to make them give their best performance. It's great, as you can see their fear gradually falling away and their performance slowly but surely improving. I am well aware of the tension one can have at the thought of a casting, and I wanted to turn this fear into a learning experience for them.
DFI: What did you think of the DFI students?
Samer: They have the will to become actors and that's important. There is a difference in the level of acting, which is normal, as some people are naturally more adept than others – it doesn't mean the others can't act, just that they will continue attending workshops to gain more skills and experience. Acting is not as easy as one would think – there's a lot of commitment and hard work to it. Overall they were great though – wait till you see some of them on screen!
DFI: Great, we're looking forward to that! So, can you tell us where the series is located this year?
Samer: In the series, Taymour's kiosk is located at Katara (also known as the Cultural Village) here in Doha. It's a wonderful location that allows us to use it for many different scenes – it has a character, a culture in its architecture and the flexibility for a variety of angles.
DFI: What's the message you'd like to give to youngster who would like to follow in your footsteps?
Samer: I would say nothing is impossible: it just has to come from the heart. Great movies are not only what we watch, but could also just as easily be what we will make.
DFI: If you had to pick one film, from any genre or era, what would you say your favorite film is, and why?
Samer: My favorite works in general are those of the master, Stanley Kubrick, such as 'The Shining', from 1980 and 'A Clockwork Orange', from 1970. Those are by far my favorite films – I can't explain why, one must see for himself to understand!
Watch here what Samer has to say during the casting of DFI student actors.
video#2