People in Film: Ludmila Cvikova
Sep 20, 2011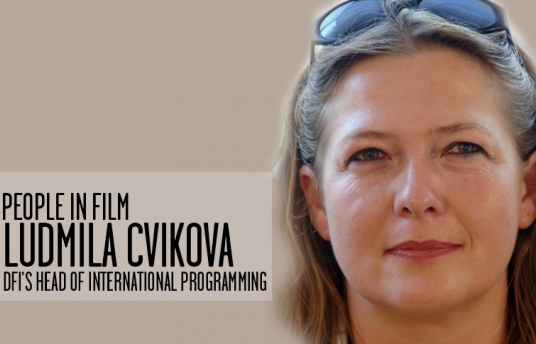 Ludmila Cvikova holds a Masters from the University of Amsterdam and Comenius University of Bratislava, as well as a European diploma in Cultural Project Management. She has been a programmer at the International Film Festival Rotterdam since 1997 till 2011, and has been scouting talents and selecting films from Eastern Europe, Balkan region, Iran, Turkey, Greece and the Middle East, for this festival. Ludmila has organised and curated a diverse number of cultural events, programmes and retrospectives within the Netherlands and internationally, and collaborated with the Museum of Modern Art in New York on the Czechoslovak New Wave retrospective programme. In the past Ludmila Cvikova functioned as an advisor for various international festivals (Karlovy Vary, Locarno, Sarajevo) and for two years she fulfilled the function of the programme director of the Art Film Festival in her native Slovakia. She also cooperated in an advisory capacity with the Golden Apricot Film Festival in Armenia and Bratislava International Film Festival in Slovakia. Since 2008 she has also been the film selector for the Romanian Anonimul International Film Festival. Ludmila was one of the members of the Hubert Bals Fund committee, and scouted for new talents and film projects for the fund, as well as for the CineMart market, both integral parts of the International Film Festival Rotterdam. Next to her advisory and curator's works, she devotes her time to translating and occasionally writing. She has got a rich experience as a jury member for international film festivals and acts as an advisor in various fields of the film industry. In July 2011 Ludmila joined DFI as head of international programming.
DFI: In your career as a programmer, what do you look for exactly when selecting films?
Ludmila: Film festival programming is a complex process that does not consist only of watching films and saying yes or no for your festival's selections. It also depends on the festival's dramaturgy, its audiences, its cultural background and the message it wants to bring nationally and internationally. The number of film festivals in the world has been increasing enormously in the last decade and every festival is different. Some of them have some points in common and some may even share similar principles when programming. Generally, they are getting quality artistic cinema to the audiences of a city, or a country that usually doesn't find its way to a regular distribution. We're not talking about regular entertaining movies but the contemporary world cinema that writes, in one way or another, cinema history. Of course, fortunately, some of these films do get distributed as well, even though it's becoming very difficult for many filmmakers. There are many theories about the growing phenomenon of "film festivals". For some the importance is this "alternative distribution" or goal of creating a showcase for people in different cities to see films. For others, the importance of festivals can be to offer a strong program of films and industry meetings, where people can screen films and make business deals to distribute them in different markets. Having said that: film selection for a festival is strongly dependent on a variety of factors.
DFI: Does the selection criteria vary from a festival to the other, and what's DTFF looking for?
Ludmila: As a student in Amsterdam I used to work in the art-house theatre Kriterion where programming was totally different than that of IFFR (International Film Festival Rotterdam) where I worked as a programmer for fifteen years. Next to regular programming, there was a space for making special thematic programmes and curating, which are probably the most exciting and rewarding things for any programmer! Joining DFI and working on the DTFF (Doha Tribeca Film festival) for the first time is a new and challenging experience for me. I'm looking around the organisation, the city, and the culture of Qatar… Even though I didn't have much time this year, I am trying to understand the taste of the local audiences. Executive director Amanda Palmer has been with the DTFF since its beginnings and is familiar with the culture, so she's of great help in this journey. Let's not forget that this is only the beginning of our learning process and I do hope that our audiences will find their way to DTFF and we both will start understanding each other better and better with each coming year. It is important to note that DTFF is not a stand-alone festival but part of the DFI, where the strategy and dramaturgy of the festival derives from. Next to the exposure and introduction of new, upcoming Arab cinema (many of the projects being supported by the DFI), we are bringing contemporary world cinema to Doha as well. And that is a real mixture of studio films, bigger productions, sport and family films, more demanding titles introducing more artistic creative approaches, as well as creative documentaries – many of them dealing with the issues of the modern Man. So it's a real fusion of glamour, entertainment, education and more.
DFI: What distinguishes this year's selections from the last 2 years?
Ludmila: I can't really tell as last year I was here only as a guest and not involved in programming. But there's an important fact in the second year of existence of DFI as an organisation, which consists of film financing, education and DTFF along with the year-round programming. These integral parts of DFI aim at supporting and developing the regional film industry and bringing interesting films to Doha. As I have mentioned before: this is all an ongoing process that I am very happy and proud to be part of. I too will be looking forward to the festival and its programming, along with DFI's development in two or three years. It's all so exciting, challenging and inspiring at the same time!
DFI: How do you generally come across films for the festival? Do you use other festivals for research?
Ludmila: Yes, our programmers and advisers travel around to other festivals, watch films there, and talk to filmmakers, producers and sales agents. We also do our research in different ways: reading trades, Internet and professional literature – you should never stop educating yourself. It's a lifelong process really, since the film industry, technologies and cinema aesthetics are changing constantly and rapidly.
DFI: There are so many good submissions, and a limited number of selections. How do you set priorities?
Ludmila: This is sometimes very difficult and there are many factors in selecting and getting a film. We should not forget that DTFF is a relatively short festival (four days) with a relatively small number of films shown (around forty). Selection of films is a sort of a puzzle that you do within a certain span of time, taking into consideration all those factors that I have already mentioned. We also discuss with the local team in Doha the interests of our audiences, because we should not forget that what all festival organisers and film directors want is to have cinemas filled in with passionate audiences. I am as well looking forward to the year-round DFI programming as I think that it can enrich the festival's programming and broaden the horizons of our audiences in Doha at the same time.
DFI: What brought you to Qatar?
Ludmila: Curiosity and a challenge! I sincerely hope I can pass over my fifteen years of experience and knowledge here. And I'm very much looking forward to get acquainted with the culture of Qatar and the whole region as well.
DFI: Are there any trends or special styles this year?
Ludmila: I think that we'll have a very inspiring Arab competition this year that we have divided into two sections: narrative and a documentary. I really hope that our audiences will enjoy and appreciate it. As for the international section: we will have interesting films from acknowledged filmmakers, as well as upcoming talents from various regions of the world, different genres, a rich and colorful mosaic that should offer our audiences a taste of what's going on in world cinema nowadays. And trends? Maybe I can disclose some themes: Issues of the modern world, women behind cameras, women in focus, immigration, sports, family, biopics and much more…
DFI: What inspired you into becoming a programmer?
Ludmila: Film is my long-life passion! In my native Czechoslovakia I had a great opportunity to grow up with unforgettable masterpieces of the Czechoslovak New Wave films of the 1960's and I was a great admirer of Polish cinema at the same time. Later on I worked for the Slovak Film Studio's Koliba, and when finished with linguistic studies at Comenius University in Bratislava, I went on studying film theory at the University of Amsterdam. Film programming for me includes passions I've got for film, cultures, people, languages, travels and more…
DFI: What is your message to emerging filmmakers?
Ludmila: That we all realise that it's not easy to put film financing together for young and upcoming filmmakers nowadays, but it still is worth trying and fighting for your dreams! While working for the IFFR, I was also one of the readers of the festival's film fund (Hubert Bals Fund) and it was so rewarding to guide young filmmakers into making new films, exchanging creative ideas and see them presenting their films later on during the festival. This is what I am very much looking forward to follow in DFI as well – to see the development of new cinema in the GCC as well as the whole Arabic region. And the timing is very good I think – the Arab Spring will for sure bring new energies into filmmaking as well!