People in Film: Hatem Ali
Feb 26, 2013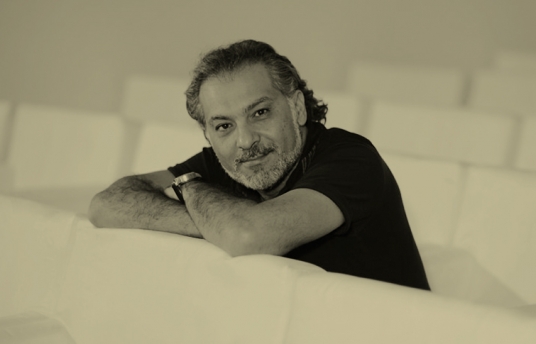 Hatem Ali is an award-winning Syrian television and film director. He has acted, written books, and created television series for diverse audiences. He began his career writing scripts, then went on to become a multifaceted artist who is constantly refining his craft and expanding the breadth of his storytelling. Al Ali is well known for his ability to create historical and contemporary dramas that inspire audiences throughout the Middle East. DFI's editorial team recently had the chance to interview Al Ali and inquire about his work.
DFI: You are renowned for your work in both cinema and television. Which do you find more challenging?
Ali: Cinema is definitely the best showcase. While working on TV series, I always had my eye on cinema. Due to production conditions in my country, working in cinema was like a dream, and it was a difficult one. There was some kind of compensation in making television with cinema technology and techniques, as it allowed me to practise my passion while infusing the product with a unique filmic style. Maybe I was waiting for the right moment when a person can truly make it in cinema. Film is a medium that has always captivated me and I am happy that I can now contribute my own voice to the canon.
DFI: Your recent historical series about Islam aired during Ramadan. How did you prepare for such an important project?
Ali: 'Omar' is a unique and sensitive series, not only in the nature of its production – it is considered the biggest production in the Arab world – but it's also the first time we explored characters that were forbidden and sacred for Muslims. It is the first series to come close to embodying these characters; therefore, we prepared for this project from many aspects: production, documentation and by collaborating with an Islamic committee of religious scholars. didn't like that much. But without that, we would have waited for another 100 years to come even close to exploring these characters.
DFI: Culture and history is a large part of your creative practice. What draws you to these subjects?
Ali: Going back through history is not running away from reality or current situations. I believe history itself is an argumentative, subjective issue. Many of the recent problems in the world are caused by not looking at our history through a critical lens – we do not criticise today's issues because they are the same as yesterday's.
DFI: Have you ever considered applying your talents to capture the events happening in Syria?
Ali: I am currently living in Cairo and have been living there for six months due to the current situation and conditions in Syria. There is always danger in expressing your feelings or exploring an event that is still evolving. Danger and fear foster confusion, causing even the best artist or filmmaker to be unable to see the complete picture. Rushing to capture this world through film comes with many risks. But these are not intended to be considered justifications. That is why I am working on a film that is about current events in Syria. I am trying to find a solution for some of the financial aspects of the project and we are in the process of discussing the film with many parties in order to garner support and capture the stories of the Syrian people.