People in Film: Claire Naber Matalqa
Apr 17, 2011
The Head of Institutional Development for the Red Sea Institute of Cinematic Arts in Jordan, as well as U.S. Liaison Officer representing the Royal Film Commission in Los Angeles, Claire Naber Matalqa was born and raised in Jordan. Claire has worked in Amman, London and Sydney in the fields of music, marketing, radio, television and film, and her lifelong passion for writing led to a Masters Degree in Creative Writing at the University of New South Wales in Sydney in 2002. In 2006 Claire returned to her hometown of Amman, and was hired to work alongside Dean James Hindman as Project Manager and one of the founding members of the RSICA. Claire plans to continue writing and producing feature films, as well as collaborating on projects to build cultural bridges between East and West, empowering local talent and sharing the unique voice of a modern Middle East with the world.
DFI: Hi Claire, and thanks for speaking to DFI! Can you tell us a little about yourself?
Claire: My name is Claire Naber Matalqa, I am Jordanian and Australian (on my mum's side!) and was born and raised in the beautiful city of Amman, in Jordan. I currently work between Aqaba, Amman and Los Angeles as both the Head of Institutional Development for the Red Sea Institute of Cinematic Arts in Jordan, and the U.S. Liaison Officer for the Royal Film Commission of Jordan.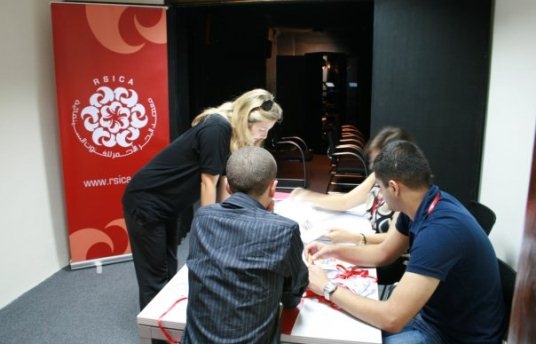 DFI: How long have you worked in this field, and can you tell us how you got involved in it?
Claire: Over various phases of my life I have worked briefly in television and film, but the beginning of my proper involvement came when I was hired for RSICA in May of 2006. The film industry in Jordan (and around the Middle East) was slowly taking shape, and I found that the first important move was to really research the film and film education industry around the world, as well as what already existed and what was developing in the region.
DFI: As the Head of Institutional Development for RSICA in Jordan, as well as U.S. Liaison Officer representing the Royal Film Commission in Los Angeles, can you tell us a little about both organisations?
Claire: The Royal Film Commission of Jordan (RFC) was established in 2003 with a mission to develop an internationally competitive Jordanian film industry, as part of HM King Abdulla II's vision to develop a leading economic and cultural role for Jordan regionally, as well as internationally. There are several important departments to the RFC, including the Capacity Building Department which hosts several production workshops, lectures, writing labs and screenings, as well as provides free film equipment to local filmmakers; and Production Services, which facilitates and supports productions, both local and international, in Jordan, and assists with locations, permits, information, services and communication within the existing local industry.
From HM King Abdulla's same vision for Jordan arrived the plan for the Red Sea Institute of Cinematic Arts: Jordan's first graduate school for advanced professional training in film, television and a wide variety of new screen-based media whose mission is to give voice to the unique cultures and extraordinary talents of Jordan and the Middle East to tell their own stories regionally and to the world. Inaugurated in 2008 in Aqaba with the support of an historic collaboration between the Royal Film Commission of Jordan and the University of Southern California's School of Cinematic Arts, RSICA graduated our first MFA in Cinematic Arts class last May.
The first alumni are all currently working in various parts of the industry in Jordan, the Middle East and the world, carrying the passion forward, each in their own unique and creative way. Some are working in production, making films, setting up businesses, teaching at universities and much more. We are so proud of what they are achieving, and also grateful to have watched them grow as storytellers and filmmakers on the first part of their journey at RSICA. We have another incredible group set to graduate in about a month's time, and I know they are all capable of truly great things to come, inshalla.
DFI: What inspired you to do take these roles, and what do you feel is accomplished through them? What benefits do they reflect in the community?
Claire: I personally felt that there was nothing more inspiring than a project that incorporated giving back to the country I love to help its growth, empowering local voices, and creating a haven for investment in local talent. On the side of my role here in LA, I can't think of anything better and more natural than promoting Jordan as an amazing location for productions, and a place where educators can come as part of building a self-sustaining industry, and promoting the real Jordan and all of its authentic, fascinating stories to the world.
DFI: What other aspects of film are you involved in?
Claire: I am always reading scripts, whether as part of my job or as part of my ongoing learning about the industry, which I enjoy very much. I try to keep writing all the time, and part of that is being a continuous reader and script doctor for other people's scripts. In the last few years I have been learning more and experimenting with writing screenplays and some creative producing.




DFI

: Can you tell us more about the creative writing work – specifically the various writing projects and two short films – you have been involved in during the last few years?
Claire: I've loved writing since childhood, and finally made the passion an official career move by completing a Masters in Creative Writing at the University of New South Wales in Sydney. I went on to take a short 6 week course in Scriptwriting to explore a new writing format, and because I've always loved film. A couple of years later, my brother Tamir (who is a director and filmmaker himself) read the script I wrote for the short course, liked it, and we decided to make with a group of friends in 2006. That short was called 'Define Over' – a dark comedy about a guy whose girlfriend breaks up with him to marry someone else she just met, and in the process of following them around, trying to figure out what went wrong, he ends up court-ordered to attend a Stalkers Anonymous group. It's basically about the fine line between temporary insanity and the more permanent kind. I love themes that deal with human beings in extraordinary and sometimes absurd circumstances.

That was my first amateur filmmaking experience with a group of friends, and we all had such a great time making it – I remember seeing how many people worked together on the process, such long hours and for no money, and how connected it made everyone feel during. In 2008 my brother Tamir and his work partner Yazan established a company called Shashati, and for the launch made a film called 'A Wonderful World' that was funded by Zain and shot in Kuwait. The film was a short musical with five original songs. Towards the end of the filming process I got a phone call to see if I could come up with lyrics to the songs that would help tell the story. That was my first real experience writing lyrics under pressure, and the songs are in the film now. I loved that – it's something to hear actors say words you made up, but it's a whole other level to hear those words put to music and sung by people with gorgeous voices!

Of course, since then my biggest challenge – and first attempt at real screenwriting – was the feature length script 'Yasmeen', that I completed in 2009.

DFI: 'Yasmeen' was awarded the Dubai Film Connection Grand Development Prize at the Dubai International Film Festival in 2009, and was also selected for the semi-final shortlist of 12 scripts considered for the RAWI Middle East Screenwriter's Lab in association with the Sundance Institute in 2010. Can you tell us more about what inspired you to write this project, and how you felt receiving an award for it?
Claire: The idea started from a thought that has always fascinated me growing up in Jordan, and that was how, very generally speaking, some ideas of love and marriage are different between East and West. The specific idea that always interested me was that two people could get married after knowing each other for only a few weeks or months, with an arranged meeting and short term, chaperoned courtship. I also know from personal conversations that the stereotype of 'arranged marriage' oppression that (people sometimes assume) did not apply in so many of these cases, where both parties were willing and excited. In some cases I know of personally, these marriages have turned out to be very happy.

I was talking to my husband Amin about these themes once, and in conversation mentioned I had an idea about a story that explored the idea within a romantic comedy context. He really liked the idea and encouraged me to write it – I think we even set a challenge where I had to deliver pages by a certain date! That was in February, and in May I delivered about 60 pages of a first draft. Once Amin read it, he liked it to the point of wanting to direct it himself, and the first few rewrites took place in the following months. The story of 'Yasmeen' developed into one that explores the themes of identity and home, both of which have always been important to me.

We sent it in to the Dubai Film Connection as part of the Dubai International Film Festival in 2009, a couple of months after our wedding, and were thrilled to be chosen as one of the fourteen projects invited to attend the DFC to meet producers and potential collaborators to advance the project. Attending the Connection was a prize in itself, as was the amazing support of the festival and DFC's organizers, which we'll never forget.

Then, after three intense days of networking and pitching the project at the DFC roundtables, 'Yasmeen' was selected as one of the three Grand Development Prize winners. The feeling when we heard the announcement was beyond description. For our team it was an amazing blessing to continue the project, and for me it was a deeply personal and rewarding moment: as though somehow the universe was giving me a push to pursue my dream to write, and that the time was now.

DFI: What does filmmaking mean to you?
Claire: For me personally, it's a beautiful and powerful medium that we use as humans to talk to each other, to express things, to connect, to have windows in the world as it is outside, the hidden worlds within the human spirit and mind. I think it's an essential tool that we've used as humans to capture both delicate details of times past, and future imaginings of times ahead.

DFI: How do you think filmmaking has developed since you started in the business, and what have these developments meant to you, and to the role you play?
Claire: I think that every day I am seeing developments and growth in the talent, training and resources available to filmmakers in the region, which is a very encouraging thing. I personally feel that we, as a region, are at the very beginning of a journey that every country with its own media and film industry has taken at some point. To be at the beginning is a very exciting thing, and also gives us an opportunity to build things in a way that will endure, and serve the bigger goal we have to tell our own stories and empower local talent. With new support grants, workshops, film schools, regional awards and film festivals (like the Doha Tribeca Film Festival) geared towards encouraging serious filmmaking and storytelling in the Middle East, we are all taking important steps in the right direction.

DFI: What are your thoughts on the future of filmmaking in the Arab world, and what do you think is coming next?
Claire: I feel that we need to keep sight of our individual identity and needs as a region, as we develop using expertise and precedent from the world's tried, tested and ever-developing industry. Also, and just as importantly, we need to look at film funds that have competitive and fair criteria, with effective distribution methods that will work to make a career for any future talented media and filmmaker who works hard to succeed. It's all also a part of the development of a cinema culture, and local audiences that will embrace the new content that is about to multiply at a very high rate. In order for new filmmaking to continue, there needs to be a cycle of sustainability. We should all be working together continuously towards guaranteed audiences, investment with return models for funders, ongoing training, and collaboration at the highest level between individuals, companies, and countries within the Middle East.

DFI: What is the message you'd like to give to prospective young filmmakers out there, or to anyone who would like to follow in your footsteps?
Claire: Find every opportunity to keep learning and to collaborate with likeminded others. There is strength in numbers, and power in perseverance. These are the people who will know when to cheer you on and when to give you the constructive criticism you might need to improve your work. Keep creating, stay passionate and dedicated and don't let anyone or anything discourage you. Be ready to work hard at being a professional no matter what job you are doing as part of the process, and be ready to be a runner on set if it means you'll be in the right place at the right time to learn new things… Ok, I'll stop there! Oh, maybe one more thing: we should never forget that story is always what matters most, even in this age of amazing CGI and effects.

DFI: If you had to pick one film, from any genre or era, what would you say your favourite film is, and why?
Claire: Very hard to choose, especially when I'll watch just about anything! I have to say a good romantic story with clever, quick dialogue always gets me. So maybe 'When Harry Met Sally' is my answer today!

DFI: Can you tell us what is next for you – do you have any upcoming projects you would like to share with us?
Claire: I am hoping to collaborate on and support a project by some very talented female filmmakers that's coming up. I'm also working on a rewrite of 'Yasmeen', as well as a new script that is a lot of fun to write. This one has no connection to the Middle East and is a story that could be set in any big city – a comedy that explores hype and human ambition. Hopefully I'll to be able to say more about it in a few months, so I'll keep you posted!