People in Film: Ashutosh Gowariker
Mar 12, 2013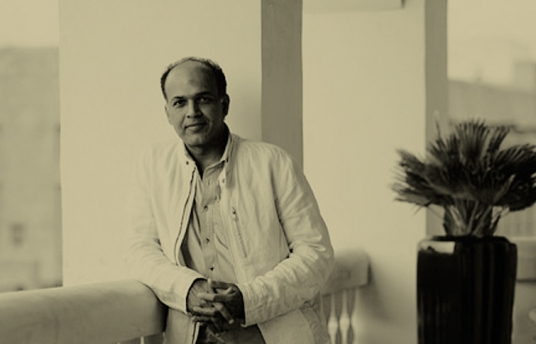 Ashutosh Gowariker is an iconic Indian filmmaker who has brought audiences around the world Bollywood classics such as 'Lagaan' and 'Swades'. He has received numerous accolades for his filmmaking from international festivals and is a voting member for the Academy Awards. The reach and relevance of Gowariker's films are undeniable and in many respects, paved the way for the international popularity of Indian cinema. DFI's editorial team spoke with this renowned filmmaker and asked him a few questions about his filmmaking.
DFI: You have been involved in a lot of large-scale historical films. What do you find most challenging about operating within this sphere?
AG: I am most fascinated with different cultures, different worlds and the different people who have belonged to these eras. It fascinates me to discover their way of life back then. For me the most challenging part is recreating that feeling. Once you have your production design, properties and costume design done, it completes the surface details. However, what intrigues me most are the manners and models of a given society; how people live and how they behave. For me, that becomes the most challenging part. When telling a story my drive is to see how I can interpret that story to contemporary times. If history cannot be made relevant to an audience today, the story won't work. People don't want simply to watch something from the past; they want something they can connect to. These are the big challenges of making historic films that have modern and global relevance.
DFI: In terms of your creative process, how do you enter another time and capture the nuances of what life was like then?
AG: The biggest process in this type of filmmaking has been research and development. Usually, filmmakers on large-scale projects will hire teams to do the R&D, but I like to do it myself. Although it takes more time, I take a year or a year and a half to write the script – if I don't experience the research I would not be able to bring in such a great degree of detail. I have several levels of research I go through in order to create a narrative that is vibrant and authentic. That being said, when the crewmembers arrive, I share what I have already discovered with them.
DFI: Themes of East vs. West are prevalent in your filmmaking. What attracts you to this dialectic?
AG: I have felt that the way we operate as people is very competitive. We tend to look at our lives in terms of what our neighbours have, and when they have something we don't, we usually want it, when in reality we may not need that extra element or item. I want to somehow bring about this kind of comparison. Hence, even though the West does things in their own way because it might suit them, we don't necessarily have to be competing; this is what I wanted to communicate in the film 'Swades'. With so many different communities within India, people from so many different backgrounds and a caste system that is strongly in place, I attempt to remind people that they need to unite. I am not saying that the caste system needs to be eradicated, but it should not hinder us in our day-to-day lives. How we can forget our differences and be together is something I always try to explore. When exploring these kinds of themes, I find it is very important to convey this message of unity in an entertaining format. Unless there is an entertainment factor the message is not going to reach the intended audiences. This can be seen in 'Lagaan' when I introduced the idea of cricket, which allows the people to come together and fight against a common enemy. It is quite complex to come up with the particular themes and tensions while also making these struggles entertaining.
DFI: What do you find most inspiring about your filmmaking process?
AG: I find the filmmaking process offers the biggest learning curve before the film is even released. For me the joy of making film is to create a world and a story – leaving it to the audience in the hopes that they connect with what I have created. If the film becomes a box-office success, then obviously I feel like I am the most blessed, as I have been able to tell a story of the past and transform it into a narrative that can touch and inspire modern-day audiences around the world.