Now Playing in Doha! : Pain & Gain
Apr 25, 2013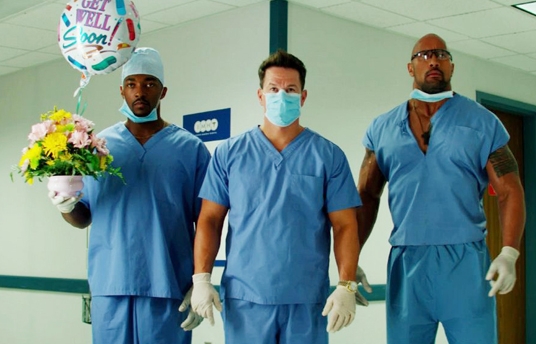 By Alexander Wood
The director behind 'Transformers' and the Ben Affleck-on-an-asteroid-classic 'Armageddon', focuses his talents on the true story of three bodybuilders whose strange interpretation of the American Dream drives them to steal from the rich – and give to themselves. Michael Bay ensures that any fans of Marky Mark (Mark Wahlberg) or the Rock (Dwayne Johnson) will be pleased to see these cultural icons in top form and sweating every minute of it.
Protein powder, deadlifts and deception colour a majority of 'Pain & Gain', providing a glimpse into the gritty bodybuilding scene of Miami. As the film opens, we see Daniel Lugo (Wahlberg) on a rooftop gym refining his physique as police and a SWAT team surround the area. Slow-motion shots follow, tracing Daniel's desperate dash to escape the long arm of the law. Fast-moving handheld camera work shows us Daniel's perspective as he jumps from building to building and is finally struck by a police car – the outcome of this encounter only becomes known to us toward the end of the film.
As the film is based on a true story, we get the sense that the crazy hijinks Daniel's bodybuilding team undertake will, most likely, not end happily ever after (then again, who knows – this is Miami, after all, home to real-life assassins and high-profile drug smugglers who still walk the streets). The idea of the film as a loose historical document is alluded to through the use of green freeze-frames that act to identify an important person, location or moment in time. Throughout the film, photographs provide transitions to various interesting situations and locales. These freeze-framemages return at the end of the film and suggest that tomfoolery, murder and racketeering may not be the best life choices that aspiring bodybuilders could make.
The film navigates the worlds of action, comedy and crime well, giving audiences a nice mix of kidnapping, killing and kindness from Paul Doyle (Dwayne Johnson), who plays a ripped yet kind-hearted member of the muscle musketeers. There are a number of laugh-out-loud moments that add unique entertainment value, especially Doyle's god fearing, puppy-dog demeanour and his tank-like physique. Daniel is also a fine addition to the film's frequent bouts of funny; towards the end, however, the film's violence overshadows the light-hearted nature that begins the narrative. The film is based on a true story, thus the key killings are a requirement, but there were times where the audience may be left wondering if they should laugh, cry or empathise with the protagonists.
Overall the shots were framed nicely, the acting good – and an upbeat soundtrack helps push through some of the slower and more serious segments of the film, providing a compelling slice of escapism just in time for the weekend.