Now Playing in Doha! : Fast & Furious 6
May 24, 2013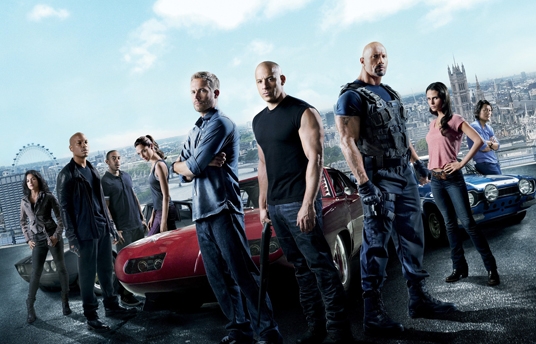 By Kummam Al Maadeed
The exciting summer movie season continues with the latest installment in the ultimate cars adventure franchise 'Fast & Furious 6'. The film starts with Hobbs (Dwayne Johnson) asking Dom (Vin Diesel) and Brian (Paul Walker) to help him capture wanted criminal Shaw (Luke Evans), who uses cars to steal military assets. Dom and Brian assemble the original team with Hobbs's promise of full pardon for all of them. The team follows Shaw through countries including Spain, Russia and the UK to bring him in, but a slight complication arises when Dom realises that Letty (Michelle Rodriguez) isn't dead (see Fast & Furious 4).
As promised in the trailer, the film is drenched in suspense, and it is remarkably creative how Justin Lin maintains the film's focus on cars. Lin directed the previous three 'F&F' movies as well, so he knows what it's all about – close-ups on gears shifting and engine thrums heard clearly in the sound mix. He really understands how in the 'F&F' world, having a good car is as crucial as having a good weapon – and to Dom's team, it's even more important. That's why with all the cars, guns and fist-fights in the the action scenes, a race scene is a must to bring out the soul of the film.
For series followers, it's enjoyable to see the characters develop and grow – from good guys to criminals and back again. For first-time viewers, the director provides a surprise entry into the series: the opening credit sequence is a mix of scenes from the earlier films – pay attention and you'll catch the whole summary of the backstory onscreen. It grabs viewers' attention perfectly, pulling us into the thrilling experience.
Another element of the film's soul is the 'family code' – and taking care of that family – an admirable message to deliver in an action film. As Dom, Diesel brings the essence of family protector and, as always, he excels in the role. There is something in his eyes and body language that makes you believe he means every word he says. Roman (Tyrese Gibson) and Tej (Ludacris), on the other hand, bring a comic edge to the plot which makes it even more fun. (They are like the hilarious cousins in the family.) The only disappointing performance was from Michelle Rodriguez – she is predictable and her facial expressions at times give the wrong message, which is confusing.
'Fast & Furious 6' is another example of why summer is the best movie season, so make sure to get your tickets early – the theatre will be packed this week, so 'ride or die'!
One other thing: Stay to see the scene after the credits roll – it gives a glimpse of the next sequel, to be released in 2014.