Inside DTFF: Day 4 - Family Day
Best of Family Day

3

Photo Gallery
Click here for photos from Family Day.

Adel Imam Reactions

The Doha Tribeca Film Festival is honoring Egyptian Actor Adel Imam for his career and body of work. We asked some of our festival guests and members of the public for their favorite Adel Imam moments and to contribute in paying tribute to the acting legend.

Chatting with Burhan Qurbani

DFI's student filmmaker Mohammed Al-Ibrahim met with Afghan-German director Burhan Qurbani in the Festival lounge to talk about Qurbani's debut feature "Shahada".

Set in present day Germany, it is the story of four muslims struggling to cope with the pressures of urban life, while trying to stay true to their faith.

Nighttime Fun at Family Day


Two visitors to Family Day make their own entertainment for the kids

Family fun at the DTFF light show.

---
Pitching
Today in the 'Pitching Workshop' new and accomplished filmmakers learned how to make their best pitch in front of an established group of experienced pitchers, who then provided feedback and guidance based on the presentation. Participants discovered how to implement positive changes to enhance their pitch before presenting their 'new' version to the rest of the group for discussion.
Direct Your Dad
During family day, we set up a mini set and gave kids an opportunity to dress their parents up in costumes. The kids then wrote a quick one minute story and got behind the camera to shoot and direct their fathers. Once they finished the scenes, they went to a DFI editor to cut their film together, add a music track and burn them a dvd within 5 minutes.
TEDxDoha Brunch
One of our contestants competing for a spot on Ahmed Ahmed's upcoming comedy tour, Just Like Us, attended the TEDxDoha brunch and interviewed some of our speakers what they would be speaking about later in the day.
Interview with Sameh Zoabi and Razi Shawahdeh
We spoke to "Man Without a Cellphone" director Sameh Zoabi and the lead actor Razi Shawahdeh about their film, one of the ten films competing for this year's Doha Tribeca Film Festival. The film is Zoabi's first feature and Razi's first major role.
Giffoni Experience Day 1

The Doha Tribeca Film Festival is pleased to partner with the Giffoni Experience for an international exchange of kid's ideas and film experiences. Sixty pre-selected local Doha children joined with six international guests to become "jurors" of a selected set of films. The jurors watched films, learned about filmmaking, attended panels and had the opportunity to engage in an exchange of opinions and ideas following each film session.
The wonderful line up kicked off with walking the Opening Night's red carpet, attending a digital effects workshop, and participating in a comedy panel. The following videos chronicle the next two days of the experience.
Giffoni Experience Day 2

Giffoni Experience Day 3

---
Clowning Around Workshop
Celebrated film acting coach and teacher Lee DeLong spent the morning at Katara teaching participants in her workshop how to be a clown.

---
A Preview of Family Day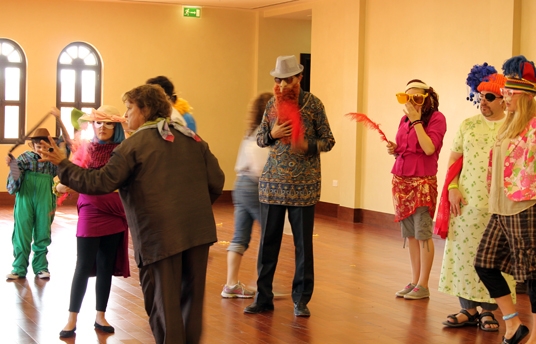 It is Friday, October 29, 2010, which means DTFF is offering opportunities for children and families to play and learn as they engage in the "adventure" of discovering the wonders of Katara, the new cultural village of Doha.
Throughout the day there will be entertainment and special performances on multiple Festival Stages, games, workshops, arts and crafts and much more! A "Passport to Fun" will guide everyone through the varied experiences. Kids will receive a stamp in their "passport" after visiting The Zoetrope Village, Qatari Crafts, DFI Filmmaking workshops, The Garden of Katara, Kite Making workshop, and The Arts & Crafts for Kids pavilion. Collect all six stamps and win a special prize!