Day 3 Highlights
video#8
Photo Gallery
Click here for photos from Day 3.
21:00 Audience Reaction at City Center Cinema
video#6
We went to the City Center Cinema tonight to ask movie goers what they thought about the great selection of films and the festival so far.

---
19:00 Africa United Screening at the 4 Seasons
video#5
We hit the beach at the 4 Seasons Hotel for the outdoor screening of Debs Gardner-Paterson's Africa United, a DTFF Middle East Premiere.

---
14:00 Black Gold Announcement


0

Today's panel EMERGING ACTORS, EMERGING STARS focused on building and developing solid acting careers here in the Middle East. With a burgeoning regional film industry new opportunities will open up for beginners as well as experienced actors. Casting director Ahmed El Attar was in Doha recently to look for actors to play two small roles in legendary director Jean Jacques Annaud's latest feature BLACK GOLD. DFI's cameras were there to record the attempt of more than thirty aspiring actors to land one of two roles in what will be one of the Middle East's biggest films.

Ben Ammar Announcement
video#7

Director Peter Webber (Girl with a Pearl Earring) opened the panel with a viewing of the BLACK GOLD CASTING video and the discussion broadened out to an examination of the different star systems in Bollywood and Hollywood. But not before BLACK GOLD producer Tarak Ben Ammar had a surprise announcement to make.

Fredia Pinto Announces Winner
video#9

After more than an hour's animated debate the session closed with special guest FREIDA PINTO making another big announcement – this time the winners of those two coveted roles

'Black Gold' will be directed by acclaimed French filmmaker Jean-Jacques Annaud, led by award-winning actor Tahar Rahim ('A Prophet') and co-starring Antonio Banderas, Freida Pinto and Mark Strong. Made in co-production with the Doha Film Institute, 'Black Gold' promises to cast more Arab actors that any other international film and will shoot in Doha for four weeks this coming January.

---
12:30 Kevin Spacey Masterclass
video#4
A group of Actors – some aspiring, some established – attended a special Masterclass with Oscar-winner Kevin Spacey earlier today. In this sequence, Spacey pushes two of the actors to their limits to get the best performance out of them.

---
11:00 Comedy Panel
video#3
What do you get when a Palestinian, an Egyptian, an Irishman and a Kiwi come together?…A comedy panel
Film Critic Kaleem Aftab moderated a comedy panel this morning with Directors Ahmed Ahmed, Taika Waititi, Sameh Zoabi and Ian Power.

---
10:45 Julian Schnabel Interview

Director Julian Schnabel's Miral is the moving story of a girl growing up in Palestine following the 1948 Nakba. DFI's Ahmed Shihab Eldin met with Schnabel, lead actress Frieda Pinto and writer Rula Jebreal to discuss the film ahead of it's red carpet screening at DTFF.

---
Day 3 Photo Gallery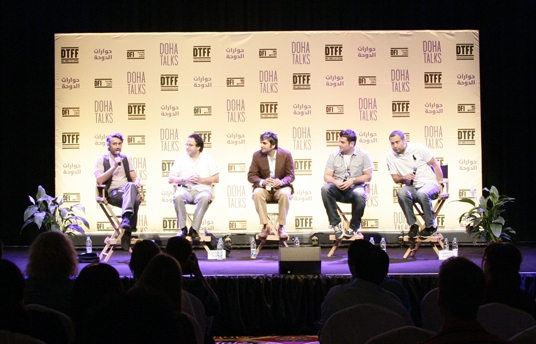 All the photos from Day 3 of the Doha Tribeca Film Festival.