Indie Filmmaking in Amman
Sep 03, 2010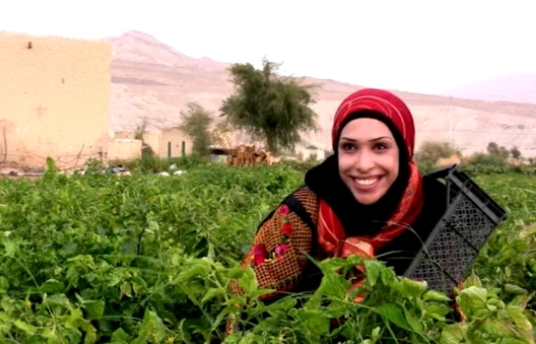 A teenage refugee explains how he sold his livestock in pursuit of his acting dream. A dialogue-free mini documentary explores traditional eye liner production along the shores of the Dead Sea. And a Palestinian laborer romances his dearest possession.
These are just a few of the stories told in short films produced by the Amman Filmmakers Cooperative, a seven-year-old institution originally founded as a UNICEF project. The cooperative brings workshops and production support far beyond Jordan's capital, to disadvantaged people who in many cases had never before picked up a camera.
"In my opinion, it's much more compelling," said founder Hazim Bitar ofturning to these "very low budget, very human" stories. For his ownnewest film, Winds of Change employed "all local talent from a village that thought cinema would never come to it."
Bitar, a Saudi-born Palestinian, also founded of the Jordan Short Film Festival. He remembers Jordan's indie filmmaking scene a decade ago as being "pretty much nonexistent."
Today, his cooperative has produced over 50 short films, including many selected to regional and international film festivals such as those in Locarno, Dubai, Tampere and Huesca.
In a country where a lack of funding and resources, coupled with the might of government censors, challenge many aspiring filmmakers, Bitar sees liberation in the format of their films, which are shot on video and distributed on YouTube.
The success of the initiative in Amman, which Bitar now sees as oversaturated, in part drove his move to focus the cooperative's workshops (in areas including writing, directing, cinematography, editing and acting) to rural and impoverished areas.
Stylistically, the cooperative's films favor a focus on visuals,de-emphasis on dialogue, handheld camera, use of amateur actors, and ageneral look and feel that is "as removed as possible from Arab TVdrama."
One of Bitar's own films, The View, won Best Documentary Short Film last year at the Middle East International Film Festival and a $75,000 prize that gave the cooperative the funds necessary to survive another five years. This 16-minute examination of the psychology of war also took Best Short Film at the Franco-Arab Film Festival.
And while some of the cooperative's members are eager to spread their wings on a feature film — a challenge that will require Bitar to build a thoroughly new model — he remains an ardent believer in the power of shorts. He shot The View on a $600 camera in one take, edited it using Adobe Premiere, and filmed it by pointing his camera from one balcony across the street to another.
"No one can stop you and say, 'hey, where's your permit?'" he said. "That's what's special about short films."