Gritty Brits
Apr 25, 2013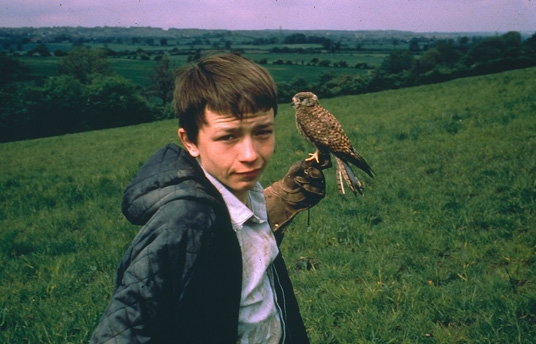 By Nicholas Davies
When I think 'gritty' and 'English-language films', somehow it's the cinema of the UK that first comes to mind. Sure, there's a slew of 60s and 70s American movies that capture the mean streets of New York City (William Friedkin's 'The French Connection', 1971) and lawless LA (John Boorman's 'Point Blank', 1967). There are Canadian and Australian examples as well (William Fruet's 'Wedding in White', 1972; Geoffrey Wright's 'Romper Stomper', 1992), but even the inherent grittiness of film noir is eclipsed by kitchen-sink realist films like Tony Richardson's 'Look Back in Anger' (1958) or Lindsay Anderson's 'This Sporting Life' (1963).
This weekend, Doha audiences have the opportunity to catch one of the best gritty Brit flicks in DFI's UK Cinema Showcase, when Ken Loach's 1969 masterwork 'Kes' is screens. Also showing – and equally worth seeing – is Mike Leigh's BAFTA-winning 'Secrets & Lies' (1996). While both films have that grimy social-realist feel to them, the similarities pretty much end there: Leigh's film is bittersweet and has elements of comedy and even melodrama; Loach's, while it has its heartwarming and comic moments, is bleak and elegantly angry.
Loach's hallmark brand of anger is often applied to portrayals of the 'ordinary', generally working-class people of the United Kingdom and the unfair circumstances in which they find themselves – and from which they are unable to escape, often for socially systemic reasons. 'Kes' is a good example – consider a scene in which Billy, the 15-year-old on whom the film centres, explains to the only sympathetic adult in the film that it's hard for him to do well in school when none of the teachers care in the least about the students or their wellbeing, or the lackadaisical way in which his mother looks after him – he seems more of a burden for her than a bundle of joy. Other Loach films – 'Poor Cow' (1967), 'Ladybird, Ladybird' (1994) and 'Sweet Sixteen' (2002), for example – place their protagonists in similarly dead-end situations. All seem to wind up with their hopes dashed, their futures bleak at best.
It should be noted as well that this gritty feel is immensely popular in Britain –films like Andrea Arnold's 'Fish Tank' (2009), Steve McQueen's 'Hunger' (2008), John Crowley's 'Boy A' (2007) and Danny Boyle's 'Shallow Grave' (1994), were all extremely well received. Add to that all of Guy Ritchie's gangster films. The list goes on.
This bleakness might all sound terribly dour and depressing, but in fact there is something uplifting and inspiring about watching a Loach film. In part, this is due to the performances – Loach often uses non-professional actors and that, coupled with his naturalistic style, gives the characters a certain kind of charm that makes them enjoyable to watch; one might almost say enjoyable to be with. But along with that, his protagonists always seem to be hopeful to the end, even as the shabby rug is inevitably pulled from under them.