Five Must–See Films for Kids and Families
Nov 26, 2013
The Ajyal Youth Film Festival is proud to provide kids and their families with an incredible line-up of entertaining, smart films. Here are five titles kids and their families should not miss out on:
Justin and the Knights of Valour (PG):
In a kingdom where values like bravery and courage have been replaced by bureaucracy and tedious rules, Justin, a sweet-natured young boy, embarks on a quest to become a Knight of Valour like his grandfather before him. Produced by Antonio Banderas and voiced by an all-star cast, 'Justin and the Knights of Valour' delivers a charming coming-of-age adventure for all ages, in the vein of beloved sagas and classic fairy tales.
Zip & Zap and the Marble Gang (PG):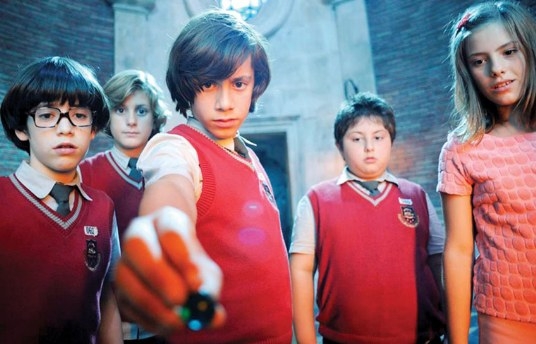 Zip and his twin brother Zap have entertained legions of Spanish youngsters for decades with their comic-book adventures. Now, they land on the big screen in an action-packed adventure set in the surroundings of a strict rural summer school. The result is a smart and exciting ride that takes full advantage of spectacular visuals and special effects to deliver a playful, family-friendly escapade full of mystery, suspense and laughter.
On the Way to School (PG):
"Too often," states a caption at the beginning of this film, "we forget that education is a privilege." It's hard to imagine a more inspiring example of this than this epic collection of the journeys of four kids in Kenya, Morocco, Patagonia and India, who, undeterred by obstacles of any kind, set off on extraordinary paths to acquire an education and improve their lives.
Bariq Shorts (G):
A top-notch selection of amazing animated and live-action short films that are sure to enchant younger audiences and their parents. The programme includes: Big Mouth, Daddy ABC, Edwina, The Dinosaur Who Didn't Know She Was Extinct, Two, Shame and Glasses, The Candy Tree, SNAP, Yum Yum Yummy, MACROPOLIS, Notebook Babies: Smile and Recently in the Woods.
Made in Qatar (G):
Discover homegrown talent in this special programme that celebrates films by Qatari nationals and those who call Qatar home. This selection features the works of winners from the Doha Film institute's 48-Hour Family Filmmaking Challenge; a series of short films made by talented students of the institute's Tahaddi 7-Day Filmmaking Challenge; and a look at Al Rayyan Productions' 'Hero and the Message', an animated tribute to Qatar National Day 2012,