Film Festivals: Not just for stargazing
Oct 06, 2013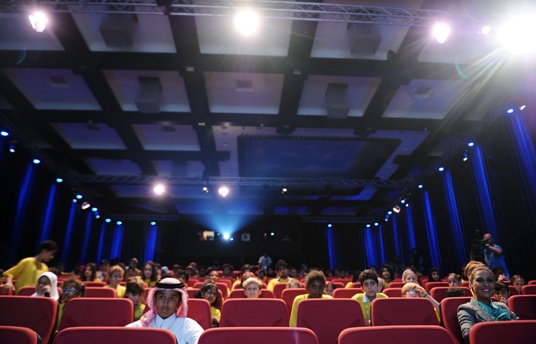 Film festivals are, of course, a familiar phenomenon to just about everyone these days – not surprising, if you think about it, since Hollywood, Bollywood and even Nollywood celebs are in the front of people's mind. These folks often make appearances at film fests, whether to promote their current projects or just to check out what's new in cinema. Cannes, Toronto, Berlin, Venice, Pusan, San Francisco, Durban, Sydney, Tokyo … the list of major cities with major festivals is endless.
But these festivals, with their glitz and glamour, red carpets, spotlights and competitions generally revolve around what's new in international cinema. Of course this is a valid, worthwhile, exciting and important venture – one that we at DFI engage in ourselves (it's the basis of our upcoming Qumra Doha Film Festival, an annual showcase of work from emerging directors that will take place in March).
But film festivals can be – and often are – organised around all manner of other principles as well. There are probably as many kinds of film fests as there are ways of thinking about cinema. With that in mind, we thought we'd have a look at a few other film festival structures and ideas to see what's going on out there.
Type of film is one way to organise things. There is an endless list of short film festivals, for example – the short form endures in popularity, and it's often where feature filmmakers make their start. A great list of these festivals is here. A little more obscure, perhaps, is the silent film festival – there are fewer of these, no doubt because there just aren't that many silent films being made (though we can point to the recent success of Michael Hazanavicius's 'The Artist' (2011) and Pablo Berger's 'Blancanieves' (2012) and wonder if the silent film isn't making a comeback), but there's clearly a love for this earliest form of cinema in places like San Francisco, Toronto, Sydney, Manila, and Pordenone, Italy, among others.
Festival by theme is another approach. A particular favourite is the Human Rights Watch Film Festival, a project of Human Rights Watch (HRW), which presents films that tell stories of human rights abuses and demand justice for all. Rather than being just a stand-alone festival, HRW partners with other festivals and film organisations to bring these films all over the world and fight for social justice everywhere. Mental health is another theme that brings films into a festival environment – Toronto's Rendezvous With Madness has been running for 20 years, and there are similarly themed festivals in New York, Scotland and Northern Ireland.
Cultural background is a prevalent way of putting a festival together – Arab, African, Italian, Francophone, Canadian, Australian, Indian, Iranian, Portuguese… pick a country or a culture and you're sure to find a festival somewhere based on films from that region. Culinary films have become a popular sidebar at festivals in recent years, with Berlin, Beirut, Vilnius, Miami and San Sebastian all featuring series of movies about food.
In the genre vein, horror film fests are hugely popular – see here for a list of about 100 of them, with names like Macabro (Mexico City), Horrorvision (Barcelona), Frightfest (London) and Everybody Dies (Brea, California). Sci-fi and fantasy festivals are equally popular and numerous; Westerns aren't very well represented … but the Western isn't a big genre these days, so maybe its day is yet to come. Same story with musicals.
Finally, there are lots of film festivals for children and youth (including, of course, DFI's own Ajyal Youth Film Festival, whose inaugural edition takes place in November of this year). Young people are catered to in Chicago, Lahore, Toronto, Seattle, Melbourne, Copenhagen and Giffoni, Italy – and that's by no means an exhaustive list. Cinema is one of the most all-pervasive media of our time, so it's a great tool for teaching young people about the world around them, as well as the world far away – whether that distance is in time or space.
Bottom line: there's a film festival for absolutely everyone … except, presumably, for those strange creatures who don't like going to the movies.