Film Chat III - Visions of Power
Jul 20, 2020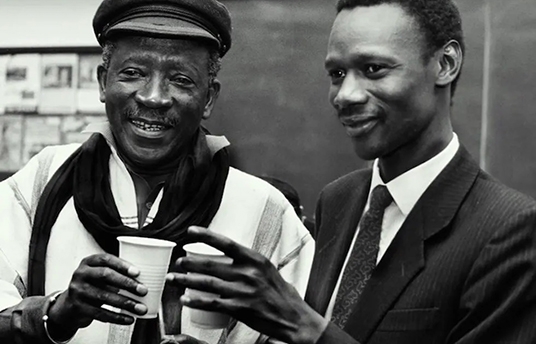 Watch films from home and then discuss online with like-minded fans!
Join us for our third edition of Film Chat and explore the remarkable world of film from the comfort of your own home. From award-winning films to cult-classics and everything in between, it's a chance to expand your viewing horizons and connect with a community of film enthusiasts.
Each month, we suggest a thought-provoking film for you to watch beforehand and then we will virtually meet up to discuss everything from plot, character development and scene analysis to broader issues such as cinema history and filmmaking techniques.
For this edition, we proudly present our Visions of Power series, with an online discussion centred on 'Sembene!'—the inspiring story of the father of African cinema.
If you would like to take part, register below now for free and be sure to watch the film before our Zoom meeting on 17 August at 7 PM. We hope to see you there!
---
Visions of Power
How can cinema be a catalyst for change? This film selection presents what Senegalese filmmaker Ousmane Sembène suggests is the potential of cinema as the most accessible art form and tool for activism.
From tackling the difficulty of memorializing Cambodian genocide to the exploration of how a film can be shot where film permits are not provided, and encapsulating a variety of methods and media—from clay figurines to guerrilla filmmaking, these films have left an impact on audiences and their scope of what film can do and look like.
Albeit unique in their own axes of oppression, they each contain visions of resistance and power against struggles which go beyond a singular event or moment in history.
'Sembene!' by Samba Gadjigo and Jason Silverman (2015)
In 1952, Ousmane Sembéne, a dockworker and fifth-grade dropout from Senegal, began dreaming an impossible dream: to become the storyteller for a new Africa. 'Sembene!', a feature-length HD documentary, tells the unbelievable true story of the "father of African cinema," the self-taught novelist and filmmaker who fought, against enormous odds, a monumental, 50-year-long battle to give African stories to Africans. 'Sembene!' is told through the experiences of the man who knew him best, colleague and biographer Samba Gadjigo, using rare archival footage and more than 100 hours of exclusive materials. A true-life epic, 'Sembene!' follows an ordinary man who transforms himself into a fearless spokesperson for the marginalized, becoming a hero to millions. After a startling fall from grace, can Sembéne reinvent himself once more?
Samba Gadjigo, the director of the documentary 'Making of Moolaade', is the world's foremost expert on the life and work of Ousmane Sembéne and author of Sembéne's official biography. He was born and raised in Senegal and is professor of African Studies and French at Mt. Holyoke College.
Jason Silverman is an award-winning film producer and longtime festival director. He has produced large-scale events for the Smithsonian, the Lensic Center for the Arts, the Tribeca Film Festival and the Lannan Foundation. He is currently Cinematheque Director at the Center for Contemporary Arts, Santa Fe, and former Artistic Director of the Taos Talking Picture Festival.
'Sembene!' is available to watch on:
● Amazon Prime
● iTunes (US store)
● Vimeo On Demand:
https://vimeo.com/ondemand/sembene/188005452
---
'What Happened, Miss Simone?' by Liz Garbus (2015)
On stage, Nina Simone was known for her utterly free, uninhibited musical expression, which enthralled audiences and attracted life-long fans. But amid the violent, haunting, and senseless day-to-day of the civil rights era in 1960s America, Simone struggled to reconcile her artistic identity and ambition with her devotion to a movement. Culled from hours of autobiographical tapes, this new film unveils the unmitigated ego of a brilliant artist and the absurdities of her time. At the height of her fame, Simone walked away from her family, country, career and fans, to move to Liberia and give up performing. The story of her life leading up to that event poses the question, "how does royalty stomp around in the mud and still walk with grace?"
Liz Garbus is a two-time Oscar nominee, two-time Emmy winner, Peabody winner, Grammy nominee, a DGA-nominated director and one of the most celebrated American documentary filmmakers working today. 'What Happened, Miss Simone?', a Netflix original, was nominated for a 2016 Oscar for Best Documentary Feature, received a Peabody Award, and six Emmy nominations including Best Directing. It took home the Emmy Award for Best Documentary or Nonfiction Special. The film delves into the life of Nina Simone, drawing from more than 100 hours of never-before-heard audiotapes, rare concert footage, and archival interviews.
'What Happened, Miss Simone?' is available to watch on:
● Netflix
---
'The Missing Picture' by Rithy Panh (2014)
Presented at Qumra and screened in the Un Certain Regard section at the 2013 Cannes Film Festival⁠—where it won the top prize⁠—the film employs an almost astonishing device to describe the horrors of life for prisoners under the Khmer Rouge—painstakingly handcrafted miniature human figures that are used in tableaux of the various scenes the film depicts. Combined with archival footage of films from Cambodia's golden age of filmmaking as well as documentary examples of the emptied capital city and forced labour in work camps, these toylike figures are disarming in that they are somehow endearing, even as they act out the gut-wrenching scenes of inhumanity the regime's many victims were made to endure. 'The Missing Picture' brilliantly revives the memory of those who disappeared, giving them an image that can be remembered, if not a voice.
Rithy Panh is a Cambodian-French filmmaker, writer and producer. Born in Cambodia, he studied filmmaking at the Institut des Hautes Études Cinématographiques in France. He has directed numerous internationally acclaimed films, including 'The Rice People', which was selected for the Official Competition of the Festival de Cannes in 1994; 'The Land of Wandering Souls' (2000), which won several awards, including the Robert and Frances Flaherty Award at the Yamagata International Documentary Film Festival; the influential 'S21: The Khmer Rouge Death Machine' (2004), which took numerous awards around the world, among them the Albert Londres Award; 'Paper Cannot Wrap Embers' (2007), 'The Sea Wall' (2008) and 'Duch: Master of the Forges of Hell' (2012). In 2013, Panh directed 'The Missing Picture', which was nominated for the Academy Award for Best Foreign Language Film and won the Grand Prix in the Un Certain Regard section at the Festival de Cannes. He then directed 'France is our Mother Country' (2014) 'Exile' (2015) Cannes Film Festival 2016, 'Graves Without a Name' Venice, Telluride, and Toronto Film Festivals 2018. His latest film 'Irradiated' (2020) won the Berlinale Documentary award at its premiere. He is also a principal founder of the Cambodian Film Commission, an industry development organisation that includes the CFC Film Lab, a professional film training programme for Cambodians.
'The Missing Picture' is available to watch on:
● Amazon Prime
● iTunes (US store)
---
'Taxi Tehran' by Jafar Panahi (2015)
Shown at Ajyal and in competition at the 65th Berlin International Film Festival⁠—where it won the Golden Bear⁠—'Taxi Tehran' finds director Panahi as himself in the driver's seat of a cab as he takes passengers to their destinations, in a film that never quite admits whether it is documentary or fiction. The taxi becomes a sort of confessional in which, encouraged by the director, his fares⁠—among them, a self-confessed thief, a DVD pirate and two women with a bowl of goldfish and a hectic schedule – speak of their troubles and expectations. It is fascinating to see Panahi coax a dramatic and often very funny narrative from these encounters as he draws a wonderful portrait of contemporary Tehran.
Jafar Panahi was born in 1960 in Mianeh, Iran. He is an award-winning director, writer and producer, whose films have garnered such honours as the Camera d'Or from the Festival de Cannes (for 'The White Balloon', 1977), the Golden Leopard from the Festival del Film Locarno (for 'The Mirror', 2000), the Cannes Jury Prize (for 'Crimson Gold', 2003); and two Silver Bears from the Berlinale (Best Director for 'Offside', 2012; Best Script for 'Closed Curtain', 2013).
'Taxi Tehran' is available to watch on:
● Amazon Prime
● Apple TV (US and MENA stores)
---
Special Guest: Rooney Elmi
Rooney Elmi is a culture writer, documentary producer, and film programmer with a hyperfocus on nonfiction cinema. Her essays and interviews have been published in Film Comment, i-D, DAZED, Real Life Magazine, The FADER, Hyperallergic, among many others.
Interests in internationalism, cyber culture, and anti-capitalism lead to her brainchild, SVLLY, an annual print and digital movie magazine, geared toward curating a radical cinephilia. The self-published editorial has been read and housed around the world and remains one of the extremely rare, feminist print film publications in circulation.
Additionally, she's the co-founder of NO EVIL EYE, an underground nomadic micro-cinema that aims to redefine the creative and social parameters of film scene(s) by curating an eclectic mix of films and accessible educational workshops.
Her work has been profiled in Brooklyn Rail, Interview Magazine, NYLON, and more.
---
We hope you enjoy our Visions of Power series and look forward to seeing you at our online discussion on 17 August.
The DFI Team