Doha by Dhow
Sep 02, 2010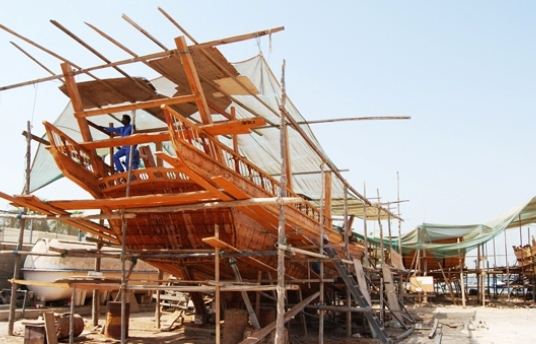 If the idea of taking a 4X4 roller coaster up and down desert dunes, wake-boarding outside the Diplomatic Club, and kite surfing against a horizon of ultramodern skyscrapers appeals to you — then come to Doha!
As we prepare both thrilling and relaxing activities for our festival guests, our hospitality department planned a 'test-cruise' on a dhow, a traditionally-built wooden sailing vessel that is still used for trade in the Arabian Gulf.
Today, dhows are still used for trading cargo, pearl diving and fishing. But they can also offer visitors a fun, refreshing (and even romantic!) excursion with breathtaking views of Doha from the azure sea.
Our dhow, which holds up to around 20 passengers, set off from the Museum of Islamic Art. Seeing the back of the MIA from the sea, and then, as the boat swept around the bay, being faced with an open view of the Doha skyline, was an impressive start.
We sailed away to a quirky soundtrack of jazz, hip hop and 90s pop and we dropped anchor at Al Safliya Island to leap, dive, and back-flip into the thick azure waters.
As we digested our delicious BBQ lunch, we reclined on the deck and watched the sun slowly set, changing into shades of orange and gold before disappearing into the sea.
And as the twinkling lights atop the many skyscrapers started to flash on, we found ourselves back at the dock. Within three hours we had sunbathed, swam, laughed, danced and soaked in the sea-breeze-infused silence of evening's arrival.
Alexia Amvrazi
Benjamin Robinson