Dig in the Sandbox
Nov 19, 2013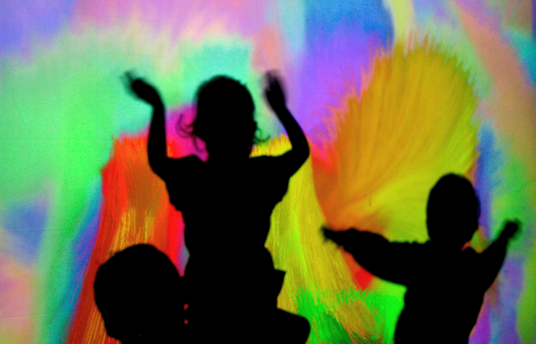 Sandbox is an interactive environment that provides hands-on access to the latest digital technologies used in filmmaking.
Embark on a digital voyage with interactive activities from Doha and around the world.
Sandbox Activities
Body Paint
Paint on a virtual canvas using the movements of your body to create a piece of art. Designed by visual artist and self-professed 'mad scientist' Memo Akten, this interactive installation interprets gestures and transforms them into colour compositions. Discover the magic of what a spiral movement with your hands can create.
Webcam Piano
Become a piano virtuoso and compose music with the motion of your fingertips! Webcam Piano interprets and produces sound from your movements. Play with different musical modes and colour schemes, each representing a different emotion.
Please Do Not Feed the Bugs
Enter a virtual ecosystem with strange beetles, spiders, centipedes and other creepy critters! Beware, these insect-like creatures possess their own personalities and react differently to humans.
Put your foot in their way and watch what happens.
Magic Mirror
Magic Mirror is a digital interpretation of the classic funhouse mirror. This magic mirror can create thousands of optical effects, limited only by your imagination. Create crazy versions of yourself– thin, round, short, tall, scary or funny.
Stoptrain
Be part of a stop-motion animation movie by taking part in building a train journey. Help build the environment, create characters and develop a story that is captured using a stopmotion camera.
GigaRobo
Become an instant celeb in a movie starring you and your friends. Create your costume, props and set and get into character, then re-enact famous scenes using green-screen technology.
3D Printer
Ever wanted to immortalise your best anime pose in 3D? This could be your chance! Keep your eyes peeled for more information on how to get involved in this futuristic installation and visit the Sandbox to see 3D printing in action!
App Space
App Space features a range of fun and creative apps for young and old. Play games and experience tools that stimulate creative thinking, all on the latest mobile and tablet devices.
Graffiti Wall
Express your creativity and create digital street art on an interactive wall. Create your work of art with customisable stencils, screen backgrounds, colours, brushstrokes and overlays, and leave personalised messages on the wall.
Social Mosa
Social media fanatics – get your Instagram pictures and Twitter feeds up on the big screen! With smartphones and other mobile devices, interact with other Festival guests and share your experience using the Ajyal hashtag (#Ajyal13).
Mada
The Qatar Assistive Technology Center presents an interactive musical instrument and gaming station for people with learning, visual, hearing and physical disabilities. It will cross barriers, generate interaction and unlock limitless possibilities.
Northwestern University in Qatar (NU-Q) TV Studio
Take a peek inside a fast-paced TV news studio and watch NU-Q students report live from the Festival, then give it a try! The news team will give you a chance to take the anchor chair and present to the cameras and operate the equipment behind the scenes.
Opening Hours: 27 and 28 November: 10:00 AM – 10:00 PM 29 November: 2:00 PM -10:00 PM 30 November: 10: 00AM – 8:00 PM