DFI Film Review: Wadjda
Dec 16, 2012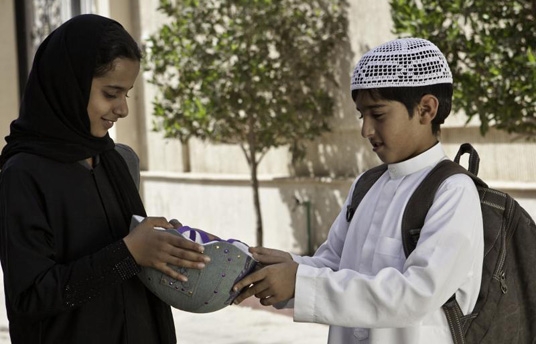 By Reem Saleh at Dubai International Film Festival
Film: Wadjda
Director: Haifa Al-Mansour
Year: 2012
Stars: Reem Abdullah, Waad Mohammed and Abdullrahman Al Gohani
Duration: 98 min
After opening at the 69th Venice Film Festival, Haifa Al Mansour's 'Wadjda' comes home to the GCC for its MENA premier at the Dubai International Film Festival (DIFF).
'Wadjda' received the only gala screening for a film in competition at DIFF, leaving skeptics wondering about its preferential treatment, the motivation of which is because 'Wadjda' is the Kingdom's first feature film and the compelling work of female director Haifa Al-Mansour.
Fortunately, neither the festival nor the director needed to defend themselves as the film exceeded all expectations. I now appreciate the Khaleeji pride accompanying the film that's marking a new chapter in the history of cinema from the Gulf.
Shot entirely in Saudi Arabia, the film follows 12-year-old rebellious Wadjda, a young girl saving money to buy a bicycle in a country where females are not allowed to ride. Throughout her charming journey, we are introduced to the different nuances of the conservative traditions, in a constructive, self-evaluative context.
However, although the film's main stories primarily revolve around women, 'Wadjda' does not leave you with a one-dimensional perception of a purely feminist picture. On the contrary, its genuine approach shows Al-Mansour is fond of her country and reflects a common sentiment, echoing amongst most women.
For the first time, life inside Saudi homes is revealed with finesse that only a good script can achieve. It is not the usual portrait of female Arab/Khaleeji victimization that we are so used to seeing on screen; rather, it is a comprehensive and non-judgmental reading of the Kingdom's society, through the director and her character's eyes.
The different roles portrayed include Wadjda's mother, who is unable to bear more children and her husband's potential second marriage. The spouse himself is revealed as a hard-working man and loving father, pressured to have a son to carry his name, because women are not accounted for in the family tree.
Another remarkable representation is Ms. Hissa, the school principal, played by the talented Saudi filmmaker and actress Ahd, who recently received an award for her courageous film 'Sanctity' at the Doha Tribeca Film Festival (DTFF). Hissa is absorbed into a social system that over the years has developed into a second nature fed by assumptions. Even her lines are delivered in an emotionless manner, like a robot with an automated response system. Hissa and Wadjda are similar; one is a free-spirited young lady, and the other, a reflection of her future persona if boundaries are not challenged.
Al-Mansour combined symbols from within the social order she knows so well, and took her time (5 years) in developing an impressive script. Detailed information on relationships, education and personal aspirations are presented with fewer but powerful words. A vivid example is Wadjda reciting verses from the holy Koran on the distorted interpretation of what people blindly believe to be the ultimate truth when, in fact, it is nothing but an illusion. In the film, Wadjda is just reciting for the sake of a school competition, but the verses disclosed Al-Mansour's motivation in making this film. She is attempting to speak to her society through what they believe in the most—the words of God.
A brilliant start to what is hopefully a burgeoning future for Saudi film, 'Wadjda' combines all positive elements of filmmaking, from script to acting with craft and attention to figurative details. The result is a fascinating journey into the heart of a society no one was able to penetrate from a unique and personal angle until now.
video#1