DFI Film Review: Grandma, a Thousand Times (2010)
Apr 11, 2011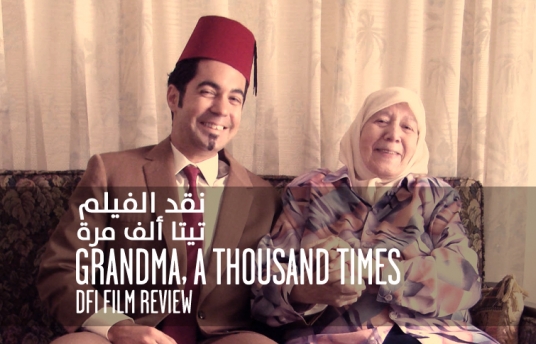 Written by Reem Saleh, New Media, DFI
Film: Grandma, a Thousand Times (Teta, Alf Marra)
Year: 2010
Director: Mahmoud Kaabour
Genre: Documentary, Biography, Family
Cast: Fatima el Ghoul, Mahmoud Kaabour, Teta Fatima Kaabour
A sentimental and personal journey, from the busy streets of Beirut to the balcony of Grandma Fatima, where she unhurriedly smokes a shisha and looks into the void: this is the portrait that director Mahmoud Kaabour manages to implant in our memory after watching 'Grandma, A Thousand Times'.
What do you do when you're old, and in a big house that used to be jammed with children and a beloved husband that passed away 20 years ago, who filled your days with music? This is the story of Teta (which means 'Grandma' in Arabic slang), whose grandson Mahmoud (the director of the film), decided to pay homage to his talented grandfather and beloved Teta Fatima (his grandmother).
video#1
Reconnecting with 'Grandma, a Thousand Times' a year after it was screened at the Doha Tribeca Film Festival (DTFF) in 2010, it is easy to see why it has captured the heart and soul of those who have watched it. At DTFF 2010 it received the Audience Award for Best Documentary and the Jury's Special Mention, along with a prize of 100,000 US dollars, and since then, it has gone on to receive critical acclaim worldwide. Regionally, the film is a huge hit: it has played at the African Premiere of the Carthage Film Festival, Tunisia in October 2010; been screened at the opening of the Mathaf: Arab Museum of Modern Arts here in Doha, Qatar in December 2010; performed at the UAE Premiere of the National Theatre in Abu Dhabi in January 2011, and is sure to wow audiences at the Dox Box International Documentary Film Festival in Damascus, Syria, in March 2011. Internationally it is faring just as well, playing at the International Film Festival Rotterdam in The Netherlands in February 2011, and is due to hold its North American Premiere at the Tribeca Film Festival in New York in April 2011.
All this leads you to conclude, even if you haven't watched the film yet, that there's something special about it. Well, yes: it is very charming, just like the character of Teta. When I met her at DTFF, the first thing she said was: "Did you watch the film 'Grandma, a Thousand Times'?" I said yes, and replied: "Well, I am Teta". Her obvious pride and joy at her grandson reviving her husband's musical journey, combined with her first time on a plane and hundreds of people watching her on a big screen, is a memorable voyage for her, and is an engaging experience for the viewers.
Telling us of his motivation to bring this story to the big screen, Mahmoud said: "15 years after I first started traveling across the world, the one place I always gravitated to artistically and emotionally was my grandparent's place. I just missed it continuously, especially as I took refuge in my grandfather's music, which he had left behind on a tape that I nicked from a drawer and carried with me on all my travels. Two years ago I decided to revisit grandma, play her grandpa's music 20 years after he had parted, and put all my cinematic knowledge into telling her story and that of her house, where I and 12 other grandchildren grew up".
Mahmoud also used what he had learnt in adding symbols to accentuate the storytelling. It is a documentary indeed, but you can't help but notice the talent in tailoring the form as well. The analogy between memory and the present time is beautifully resuscitated through a delicate photo montage, where you see Teta sitting on the sofa with a duplicate of her in black and white from when she was still young. As if present and past have never been disconnected, they are cloned through memory, music and the resemblance of Mahmoud to his grandfather, with Teta calling him "my little husband". Whatever elements he used, from the sound of the streets to the music of his grandfather, he didn't lose the tenderness and intimacy of the picture.
When you see Teta calling Mahmoud from behind the camera to feed him with her own hands, you can feel how genuine it is. This is more than a personal relationship: it is a culture, a history, and a world running away from family ties into more solitary and busy lifestyles. Yet here comes an old woman who captures your heart and, at times, makes you wish you had never met her – she'll remind you of your own family and loved ones from the memory of your childhood. As Mahmoud says: "The fear of losing a loved one to death is universal, and so is our adoration of our grandparents".
Mahmoud innocently influenced his grandmother in telling the story by playing the role of his grandfather: he wears his clothes and makes her listen to the music of the man she adored. Impersonation then becomes a key element in the form of the film, and part of its motivation. And it seems it's a way she enjoyed it, too: "She always addressed me as her little grandson and cited how much I look like grandpa. That inspired the riskiest undertaking: my impersonation of my own grandfather in front of the camera to stimulate more of her storytelling about him".
The film is simply delightful, with a taste of Beirut, its food and affection, and its warm family ties. It adds both a smile and a tear to your face, and you will carry Teta for a long time in your memory. This is a love story whose protagonist is the past, and a shisha Teta uses to blow away her loneliness.
If you are wondering where you can watch the film, the good news is that it will be released on DVD this summer. For those living in Beirut, Lebanon, the film is anticipated to be shown in art house theatre Metropolis on April 14th 2011, so if you are in town, don't miss the screening!
video#2