DFI Film Review: Fordson - Faith, Fasting, Football
Jul 22, 2013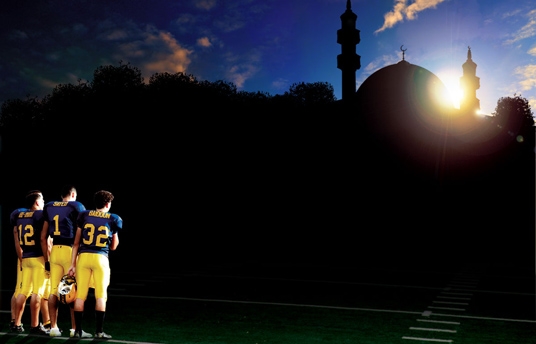 By Emily C Reubush
Dearborn, Michigan, a southwestern suburb of Detroit, has the largest Arab population of any city outside the Middle East. Many shops there have signage in Arabic and mosques are commonplace; Dearborn was also the home of Henry Ford, the birthplace of the very first mass-produced automobile, and is the current-day world headquarters of the Ford Motor Company. This unique sort of contrast is a theme that is carried through 'Fordson: Faith, Fasting Football'.
The documentary follows the (American) football team of Fordson High School as they prepare to face their rivals in the biggest game of the 2009 season, which happens to take place on the final Friday of Ramadan , and just a week after the 8th anniversary of September 11 . While the sport has been the basis for any number of compelling films about team challenges and camaraderie (e.g. 'Rudy', 'We Are Marshall', 'Friday Night Lights' and 'Remember the Titans', to name just a few), from the very opening of 'Fordson', when footage of a game is backed by audio blasts of vitriolic Islamaphobic rhetoric, it is clear that this group of teenagers has much more to overcome than they would in any standard popcorn sports flick.
Well-known as an area with a high concentration of Muslims, Dearborn has sustained much anti-Islamic hatred over the years. Fordson High, which was built by Henry Ford, has a student body roughly 95% of Arab ancestry, and there are many examples throughout the film of the racism that the team, the school, and the community have weathered.
But 'Fordson' is not a film about hatred. It is a film about thoroughly American kids, who just happen to have names like Ali, Bilal and Hassan, who pray facing Mecca five times a day, and who aren't able to drink water as they train for hours in the sun for their senior-year rivalry game. It's a film about a doubly strong community of devout Arab families and generations of high-school football devotion. Coach Zaban – like most of his assistants a Fordson alumnus – does his best to keep his team going through fatigue and thirst, pushing them on towards glory. The boys look longingly at a water fountain across the field and joke that it looks like a fountain of heaven. 'It's like Zamzam,' one laughs. A non-Muslim assistant coach explains how he fasts as well, so he understands what the kids are going through and when the training might become too much for them.
Freed from practice, the boys go home to sleep before it is time to break their fast, which they do with dates and Iftar with their families, a thoroughly traditional scene, despite the football game on the television. After the meal, many meet up at the local 7-11 convenience store for junk food and good-natured taunting of their Dearborn High School rivals, who have been drawn to the same shop for slushies and nachos.
This sort of contrast – or anticipated contrast, for we see these boys fit all the facets of their lives together smoothly – are the film's central theme, and the confluence of so many differing aspects of daily life serve as an informative and inspiring story, no matter the viewer or their background. 'Fordson: Faith, Fasting, Football' teaches many lessons as it battles and arises victorious over any number of challenges.