DFI Film Review: Cairo Exit (2010)
Apr 25, 2011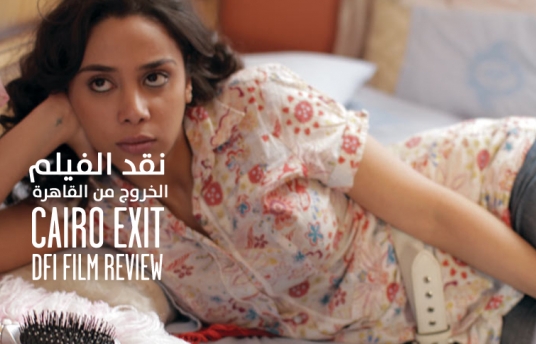 Written by Reem Saleh, New Media, DFI
Film: Cairo Exit
Year: 2010
Director: Hesham Issawi
Genre: Drama
Cast: Mohamed Ramadan, Maryhan, Sana Mouziane, Safaa Galal, Ahmed Bidder
Country: Egypt
18-year old Amal (Maryhan) comes from a Coptic Orthodox family and her boyfriend Tarek (Mohamed Ramadan) is a Muslim. They both seem to venture into a relationship with many social and religious constraints. Coming from the ill-fated and sinister streets of Cairo, this young couple is longing for an 'exit'; Tarek wants to leave Egypt illegally by boat and Amal's freedom lies in his presence by her side. She wants to accompany him, but her commitment towards her helpless mother puts them both in a dilemma. See trailer here .
The film draws attention to the bitter reality of pre-revolution Egypt and the struggles of the young generation. The word 'exit' carries various undertones, and to each character their own perspective: to Tarek and Amal it means being together away from the land of Pharaohs; to Hanan (Safaa Galal), who is a single mother, it's about making major concessions to secure the future of her only son; and to Rania (Sana Mouziane) – the best friend of Amal – it's dropping the idea of love behind and marrying a wealthy, old foreigner.
These 'exits' are the ultimate freedom the film's characters look for. In their circumstances, these people are reduced to securing their basic needs only, and the hope for a better life becomes a far-fetched luxury they can't afford. As Amal says in the film: "Love is not for the people like us". There's nothing but an abyss dragging these fresh Egyptians into an uncertain fate in a world of thieves, thugs and drugs. It's a web, where one misery leads to the other. Tarek adds: "I'd rather live with ghosts if they give me my rights".
In an interview with Hesham Issawi, the director of the film, he mentions that the ending would have been different if the film had been released post the fall of Mubarak's regime, which underlines that the new Egypt is a more optimistic one.
He also managed to portray social taboos in a context where you can't judge the characters anymore: where virginity, drugs and prostitution are mere silly details and – sometimes – a justified 'exit'. We sympathise more with the female characters, leading a battle in a man's world. Most men in the film have a pejorative representation: the son and fiancé who leave behind broken-hearted women, the stepfather who abuses his new family, and the obnoxious employer.
This brings me to Mohamed Ramadan's ingenious acting and remarkable talent. Ramadan is, in my opinion, the new Ahmed Zaki . They share similar passion in their faces: one that could easily carry all the colours of misery, yet with a sense of rare pride. The co-stars in this film are no less important, and are just as engaging. We are to expect more of the protagonists, especially Ramadan and first time actress Maryhan, who is the discovery of this independent picture.
The film is an authentic view into the lives of millions of people fighting for their freedom in Egypt. With new talents on the big screen, and a new Egypt, I am really hopeful for the future of Egyptian cinema. And why not get the golden years back!