Day 3: Silent Film Classics
Dec 01, 2015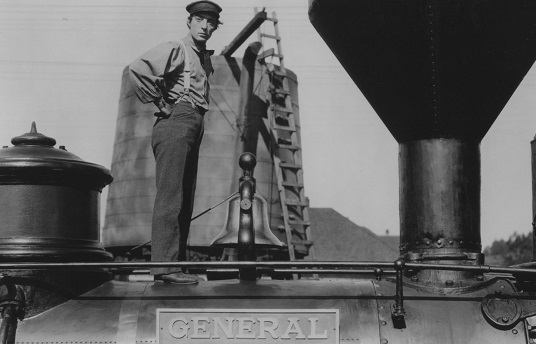 Tonight, (1 December), you can catch the first silent film classic that we'll be screening during Ajyal: 'The General' – and it's free! One of the most significant films made during the silent era, the action and comedy of 'The General' resonate today thanks to director and star Buster Keaton's timeless performance. With a career spanning 1898 to the year of his death (1966), Keaton starred in more than 150 films and directed classics of the silent era, such as 'Sherlock Jr.', 'The Navigator', as well as 'The General'. His stoic acting style earned him the nickname "The Great Stone Face", and in 1960 he was honoured with a star on the Hollywood Walk of Fame.
We're also honouring another silent screen icon, Charlie Chaplin, with a screening of 'Modern Times' on 2 December. (It's also free!) Chaplin was born in London in 1889 and over the course of his career would become one of the most celebrated and admired filmmakers in the history of cinema. His early onscreen success in comedies from Mack Sennett's Keystone Films led to international acclaim; he went on to launch United Artists with his contemporary superstars Mary Pickford, Douglas Fairbanks and D.W. Griffith. Among his iconic films – all of which he wrote, directed, produced and starred in – are 'The Kid' (1921), 'City Lights' (1931), 'Modern Times' (1936) and 'The Great Dictator' (1940). Chaplin died in 1977.
The General (PG)
Considered one of the best action-adventure comedies of all-time, 'The General' stars silent-film-era icon Buster Keaton as Johnnie, a love-struck train driver. On the eve of the American Civil War, Johnnie rushes off to enlist in the Confederate Army to prove his worth to his fiancée, Annabelle. The slight-in-stature and far-from-strapping Johnnie is rejected, however, deemed a better help to the South working as an engineer on his locomotive, The General. The problem is, no one tells Johnnie why he is not allowed to fight for his cause.
Dejected, Johnnie tries to explain matters to Annabelle and her family, but no one wants to have anything to do with him until he is in uniform. A year later, Annabelle's father is injured on the frontlines. While she is en route to see him – riding, of course, on The General – a Union spy hijacks the train and Johnnie jumps into action. A riveting chase sequence ensues, showcasing Keaton's famous physicality as he pursues the captured train on foot, by car and even by bicycle. Taking back The General gives Johnnie the chance to fulfil his dreams of being a hero – and win back his girl.
Tue, Dec 1, 8:00 PM, SONY Cinema Under the Stars (KE-SC)
Modern Times (PG)
With his bowler hat, cane and little moustache, Charlie Chaplin's Little Tramp is one of the most beloved characters in the history of cinema. In 'Modern Times', the Tramp's mind-numbing assembly-line job drives him to a nervous breakdown, which plunges the factory into hilarious chaos as Chaplin performs his flawlessly timed slapstick antics.
After he recovers, he has his health but no job. In the wrong place at the wrong time – as the Tramp so often is – he is mistakenly rounded up at a political rally and held in prison. After some high jinks behind bars, he is set free and soon meets a beautiful homeless girl when he gallantly takes the fall for her after she is caught stealing bread. The two misfits try to make a new life together by getting jobs and fixing up a small shack to call home. Leaving their troubled pasts behind is easier said than done, however, and once again the pair find themselves fleeing the police.
A master of subversive comedy, Chaplin tackled social issues by making audiences roar with laughter – and his comic genius lives on to this day.
Wed, 2 Dec, 8:00 PM, SONY Cinema Under the Stars (KE-SC)