CONVERSATION WITH GABRIEL YARED
Dec 06, 2014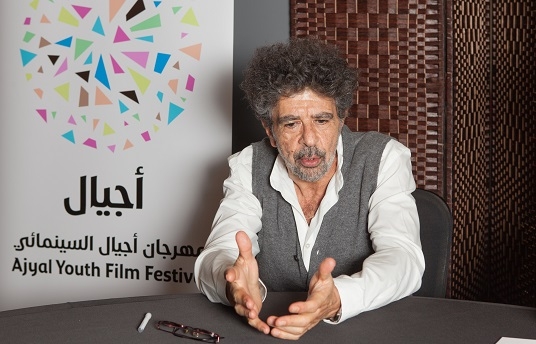 All eyes will be on 'Kahlil Gibran's The Prophet' this evening, as the Ajyal red carpet leads into the Festival's closing night celebrations, when the film will be presented to MENA audiences for the very first time. We had the chance to chat with celebrated composer Gabriel Yared, about his participation in the project, and here's what he had to say.
Doha Film Institute: How did you get involved in 'Kahlil Gibran's The Prophet'?
Gabriel Yared: I accepted [the invitation] because Salma [Hayek] was onboard. She is a woman with such fire, determination, intelligence and sensitivity. She has a very musical sensibility too. Too, I found out I was going to work with Roger [Allers], who had worked with many composers and many approaches.
DFI: Did you find it unusual that this classic book by a Lebanese author would be turned into an animated film by a Hollywood director?
GY: The idea came from Salma. As you know, the book is a bestseller all over the world. I have known the book since I was a kid, and a few years ago, I was working on a project with a friend of mine, Amin Maalouf. We had the idea to do an oratorio or an opera based on 'The Prophet', but we had no idea how to do it. Then Salma had the genius idea to ask Roger to turn it into an animated film and create a story around the chapters. I was fascinated. Roger and Salma came up with something very clever and artistic, integrating the different chapters into the main narration very smoothly. That said, I haven't seen the finished film yet! I will see it for the first time here in Doha.
DFI: How was your relationship with Roger Allers?
GY: When we sat down and talked, he said he was open to anything I wanted to do. He just asked for one thing: he wanted to feel that we are in an animated film. He wanted the music at times to be more 'funny'. So, for example, when the little girl falls off the roof, he wanted to hear 'BLURRRBLBLBLB' – a cartoonish sound of her falling down.
DFI: You have mentioned that among the film composers you particularly admire are people like Scott Bradley, Milt Franklin and Carl Stalling, all cartoon composers for shows like 'Tom & Jerry' and 'Bugs Bunny' who display a strong and colourful sense of orchestration. I feel this sort of composition for the story of Almitra and Mustafa.
GY: I definitely referred to them! As a kid, I used to watch those cartoons and I was amazed by the orchestration. Those composers never signed their music because it was excerpted from Rossini, Verdi, 'Happy Birthday' or whatever, but the colour and perfection of the orchestration was amazing. I don't think 'Kahlil Gibran's The Prophet' is the same as their work, but I definitely took them as an example.
DFI: The music for the animated chapters is quite different: it feels more lyrical and poetic, sometimes almost abstract. In some of those it feels that the drawings were inspired by your music, rather than the other way around.
GY: Only two chapters came directly from my music. For 'On Marriage', Joann Sfar described it and asked me if I wanted to start working on the music, then after I did the music he animated it. The second is 'On Death' by Paul and Gaetan Brizzi. They gave me a synopsis with beautiful drawings, then animated the sequence to my music. In the other cases I adapted my music to existing animation, but there was a real osmosis between picture and music.
DFI: What about the contributions to the score by Yo-Yo Ma?
GY: He came onboard to play my music, but we ended up using a beautiful piece he composed with Edgar Meyer for 'On Freedom'. The more I watched that segment, the more I thought that piece was absolutely perfect for this chapter. It was so 'to the point' that I didn't want to do anything else. And it was just a jam session with mandolin, banjo and double bass, not a soundtrack.
DFI: There's a great story about one of your best-known pieces – the piano duet in 'Betty Blue', which wasn't even meant to be in the film.
GY: It wasn't in the script but since there was a piano shop, I thought, 'We have to do something!' The problem was that it would have had to be something suitable for the actors. At the time, Jean-Hugues was studying piano, but Béatrice could only play with one finger. That inspired me to create the duet, with him doing elaborate scales and her playing one note at a time. So you see, when a composer can penetrate the film process early on, great ideas can come out of it and everyone benefits from it: the actors, the directors, and the film itself!