'Amour' at the Oscars
Feb 24, 2013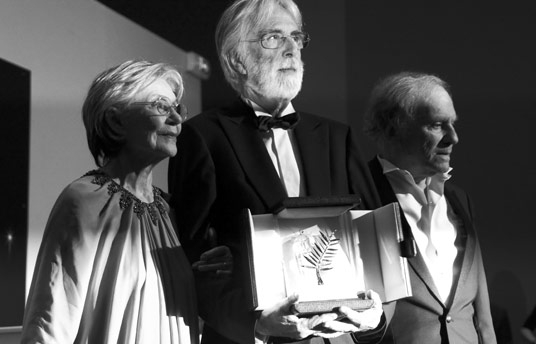 It's not every day that audiences in Doha get the chance to experience a groundbreaking film that is poised to make Oscar history this evening. Michael Haneke's 'Amour' has won Cannes Festival's prestigious Palme d'Or and roped in five awards at the 2013 Cesars, and will be screening for local audiences as the opening night of DFI's upcoming Francophone Cinema Week, running from the 7th to the 13th of March at Katara Drama Theatre, building 16.
Excitement is in the air this evening as audiences around the world eagerly await the Academy's verdict, and hopefully 'Amour' will come out on top. 'Amour' is nominated for five Academy Awards: Best Picture, Best Foreign Language Film. Best Director and Best Original Screenplay, while star Emmanuelle Riva, 85, is nominated for Best Actress.
The French-language Austrian film is among a handful of non-English language films nominated for the Best Picture accolade since the award's inception in 1929, and so far no foreign-language film has ever been able to snag Oscar's top prize. Many critics and film enthusiasts feel that 'Amour' is up to the challenge and that Haneke will be successful in making history through the craftsmanship of his narrative; one which is founded on love, life and the timeless beauty that his characters exude. Lead actress Emmanuelle Riviera also reaches a cinematic milestone as the oldest nominee for Best Actress in Oscar's history.
Audiences in Doha should not miss their chance to experience the work of this acclaimed director and witness a film that has already created cinematic history, regardless of the Academy Award outcome tonight.
The film follows Georges and Anne who are both in their eighties, and spend their time reading, discussing music, and listening to each other's stories. One day Anne has an attack that changes their lives forever and tests the very foundations of their relationship.
'Amour' will screen as the opening night of Francophone Cinema Week and there is also a second screening taking place during the week for those who miss out on opening night tickets.
Audiences who are looking for a lighter more family friendly option can watch a beautifully animated film based on the beloved children's books by Belgian author Gabrielle Vincent. 'Ernest and Celestine' is the story of an unlikely friendship between a reclusive bear poet and a young, orphaned mouse. Their tale of inter-species friendship is infused with gentle warmth and an adventurous spirit, brought to life with exquisite animation in the watercolour style of the picture books. The film screened at the 2012 Cannes Film Festival Directors' Fortnight, the 2012 Toronto International Film Festival Kids programme, and won Best Film d'Animation at the 2013 Cesars. 'Ernest and Celestine' offers an uplifting viewing experience for audiences of all ages and is just a small slice of the compelling films screening this March.
To learn more about Francophone Cinema Week and where to purchase tickets, please click here
video#1