Ajyal Family Weekend
Nov 25, 2013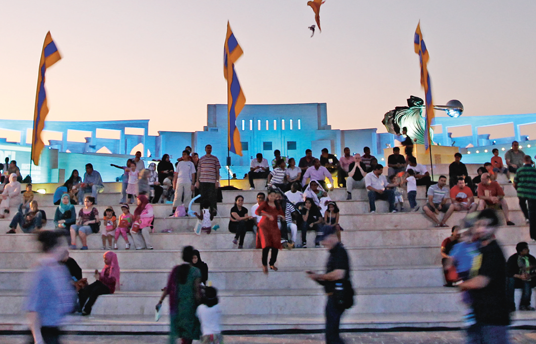 Ajyal Family Weekend will take place November 29, 2:00 PM – 11:00 PM and November 30, 2:00 PM – 8:00 PM Katara Esplanade. More here.
Most film festivals feature lots of black-tie affairs with lengthy red carpets and copious amounts of avant-garde filmspeak. Although these more traditional festival formats allow you to unleash your lexicon of big words and don your newest bowtie, there is another segment of the film-loving community who seldom get to walk the red carpet – unless they happen to be on the Esplanade at the Cultural Village Katara from 29 to 30 November. Ajyal's Family Weekend is a new take on the festival experience that strives to bring the whole family into the fold by offering exciting events alongside an amazing selection of age-appropriate screenings.
Ajyal's Family Weekend is one of the largest gatherings for families that Qatar has to offer and all of the excitement is conveniently located in one space. There will be workshops, video games, music, dance, shows and performances by local youth and international talents – and a whole bunch of other surprises. To sweeten an already great deal, all events at Ajyal Family Weekend are free and offer activities for kids of all ages. (And even adults who are as yet undecided about their age and maturity level can take part in the magic.) Of course, there is no judgement – our editorial staff has been vying for first dips in the car simulator, becaue how else are we going to fast-track our way to becoming professional stunt drivers?
In addition to the virtual driving machine, which is sure to impress, the Ajyal Studio offers audiences the chance to be part of a behind-the-scenes filmmaking experience. There will be lights, camera and action, action, action, ensuring that everyone takes home some great festival memories. For those who want to express their inner artist, the 'New York Times' invites families and kids to express themselves on a graffiti wall that will encourage thinking and discussions about film and the issues the younger generations face today.
And of course, it wouldn't be Family Weekend if there weren't a host of exciting workshops to choose from. Ajyal has everything from the ancient to the modern, including origami, animation, and even a workshop on mastering scrapbooking. If technology is more your speed, visit the Sandbox to experience an interactive environment that will inspire and entertain anyone who is fascinated by tech and movies. Families will have hands-on access to the latest digital gadgets and widgets used in filmmaking. The Sandbox's interactive playground includes installations, educational games, apps, digital creative tools and production activities from Doha and around the world.
By visiting the Sandbox families can see 3D animations and printing in action, paint on a virtual canvas using body movements in an installation that interprets gestures and transforms them into colour compositions, and use green-screen technology to produce imaginary locations and re-enact famous movie scenes. All in all, there is little you can't experience at the Family Weekend – the only difficulty will be choosing what you check out first.
See you on the Esplanade.
To learn more about the many events taking place during Ajyal Family Weekend, please click here.