Ajyal 2015 Day 1 - Highlights
Nov 29, 2015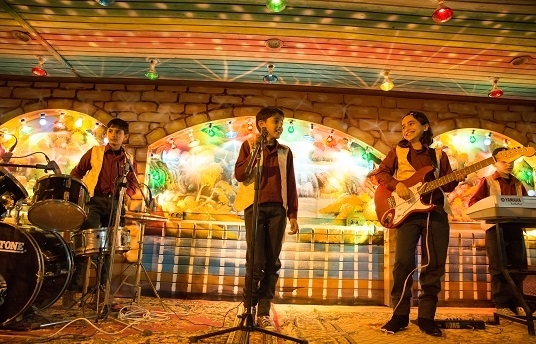 Welcome to the third edition of the Ajyal Youth Film Festival! Over the next week, we'll screen 80 short and feature-length films from all over the world – and from right here in Qatar. With so many films – and all kinds of special events and activities – we want to make sure you get the most out of your Ajyal experience. So, get out your calendars and let's get planning! Here are a few highlights from #Ajyal15.
'The Idol' – Opening Night Film
Palestinian director Hany Abu-Assad is one of the most recognised and celebrated voices in Arab cinema. He has been nominated for an Academy Award for Best Foreign Language Film twice, first for 'Paradise Now' (2005) and then again for 'Omar' (2013), and his films tell stories of contemporary Palestinian life that go beyond the usual headlines. This is especially true of 'The Idol', a biopic of 'Arab Idol' superstar Mohammed Assaf, who came from the streets of Gaza and rose to fame on the global stage. In telling the story of Assaf's life from childhood to stardom, 'The Idol' is an uplifting tale of perseverance.
Sun, 29 Nov, 7:00 PM, Katara Building 16, Drama Theatre (K16-DT)
Thu, 3 Dec, 11:00 PM, Katara Building 16, Drama Theatre (K16-DT)
'Hero and the Message' – An Inclusive Screening
On the occasion of the UN International Day of Persons with Disabilities, Ajyal offers an inclusive cinema experience – the first of its kind in the Gulf. Visually impaired audiences will be able to view the film through sound alone, as audio description transmits not only dialogue, but also visual elements that cannot be understood through dialogue, music or sound effects. Deaf and hard-of-hearing viewers, as well as those who have difficulty understanding speech, will benefit from subtitles enriched with extra information about sound effects and music.
Thu, 3 Dec, 6:00 PM, Katara Building 16, Drama Theatre (K16-DT)
Cine-Concert by the Tout-Petits Cinéma Festival from Paris
In the silent era of film, before it was possible to record sound, movies were screened with live musical accompaniment to heighten the emotions of the onscreen images. In this spirit, the Festival Tout-Petits Cinéma from Paris will perform a cine-concert, as four musicians play a live score for four short films screening at the SONY Cinema Under the Stars.
Fri, 4 Dec, 6:30 PM, SONY Cinema Under the Stars (KE-SC)
Geekdom: Video Game Exhibition
The Geekdom: Video Game Exhibition features a gaming lounge and a space for Qatari collectors and video-game lovers to share their interest with others. Take part in an Ajyal Superhero Film Hunt, FIFA Tournament, or a Cosplay Competition and unleash your inner geek!
Join us at Katara Building 18.
Exhibition timings:
30 Nov–3 Dec / 10:00 AM–10:00 PM
4 Dec / 2:00 PM–10:00 PM
5 Dec / 10:00 AM–4:00 PM