Tramontane
Spring Grant 2013 - Production Stage
Current project status: Production
Synopsis
Rabih, a young blind man, lives in a small village in Lebanon. He sings in a choir and edits Braille documents for an income. His life unravels when he applies for a passport and discovers that his identification card, which he has carried his entire life, is false. Travelling across rural Lebanon in search of a record of his own birth, he meets people on the far fringes of society who tell their own stories, raise further questions and give Rabih minor clues about his true identity. Descending into a void at the heart of his existence, Rabih encounters a nation incapable of telling his or its own narrative.
Credits
Director

Vatche Boulghourjian

Screenwriter

Vatche Boulghourjian

Producer

Caroline Oliveira
About the Director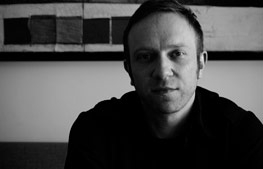 Vatche Boulghourjian is from Lebanon and holds an MFA in film from New York University. Before attending NYU, Boulghourjian worked throughout the Middle East on documentaries for television networks while also making his independent shorts, experimental films, and documentaries. 'Fifth Column', his thesis film, received a production grant from the Hollywood Foreign Press Association and in 2010 had its premiere at the Cannes Film Festival as part of the Cinéfondation programme, where it won third prize. Boulghourjian is currently developing his first feature, 'Tramontane', which was selected by the Venice Biennale to take part in the inaugural edition of the Biennale College – Cinema.
Production Company Profile
Abbout Productions makes feature films and documentaries with a distinctly Arab voice, expressing the identity of the region. Since 1998, the company has brought together an important network of Arab and Lebanese artists. Abbout Productions has a strong partnership with MC Distribution, a company dedicated to promoting films from the Middle East, along with priority access to the Metropolis Cinema, the only arthouse cinema in Lebanon. In 2010, Abbout signed a joint venture with Lucky Monkey Pictures in New York, which creates exciting opportunities for new Middle Eastern productions.
Rebus Film Production champions films that communicate complex political and social subject matter, reflect bold authorial craftsmanship, and possess an empathy that can transcend borders and languages. We see films as a combination of images, sounds, and texts that together convey greater meaning and derive the name Rebus from this conviction. Established in 2001 in Beirut, Rebus has produced documentaries and video content for televison networks; documentaries by independent filmmakers with projects in the Middle East; and independent works by Vatche Boulghourjian, including the critically acclaimed, award-winning experimental documentary 'Noble Sacrifice' (2002). Currently, Rebus focuses on producing feature-length films in Lebanon and beyond, and has several projects in development including 'Tramontane'.
Contacts