Theeb
Spring Grant 2013 - Post-Production Stage
Current project status: Post-Production
Synopsis
Hejaz Province, the Ottoman Empire, 1916. A Bedouin tribe roams the desert, blissfully unaware the world is at war. Theeb, a mischievous young boy, spends his days playing with his older brother Hussein, who tries to teach him to be a man. Their lives are interrupted by the arrival of Edward, a British Army officer, and Marji, his guide. They have a mysterious request: they want to be guided to an ancient Roman well on the old pilgrimage route to Mecca. The well is in perilous territory known as a hunting ground for outcast Bedouin raiders. Despite the dangers, Edward is determined to reach the well. A skilled navigator and hungry for the challenge, Hussein volunteers to guide them. Jealous of his brother's adventure, Theeb chases after the party; having come too far to return, they reluctantly take the boy with them. Theeb has unwittingly embarked on a dangerous, life-altering journey. If he is going to survive, he must find the skills and courage to overcome the desert, marauding raiders and a terrifying stranger – a man with no name who is hell-bent on taking the mysterious oak box that Edward guards so closely.
Credits
Director

Naji Abu Nowar

Screenwriter

Naji Abu Nowar, Bassel Ghandour

Producer

Bassel Ghandour, Rupert Lloyd

Executive Producer

Nadine Toukan
About the Director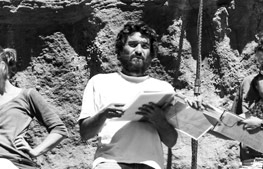 Naji Abu Nowar lives and works in Jordan. His short film 'Death of a Boxer' (2009) played at the Palm Springs International Shortfest, the Dubai International Film Festival, the Miami Short Film Festival and the Franco-Arab Film Festival. It has been sold to the North American Arabic-language media website Yalla TV, and to Roya TV, an Arabic-language Middle East television channel. Abu Nowar is on the selection committee for the RAWI Middle East Screenwriters Lab in association with the Sundance Institute. 'Wolf', his first feature-length fiction film, is currently in post-production.
Awards and Festival History

Festivals


Spring Grant '13
Contacts