Survival Visa
Spring Grant 2013 - Production Stage
Current project status: COMPLETED
Synopsis
When disaster strikes, the NASA (National Agency Survival & Arabic) publishes a call for applicants for a limited number of Survival Visas.
Credits
Director

Nadia Rais

Screenwriter

Nadia Rais

Producer

Imed Marzouk
About the Director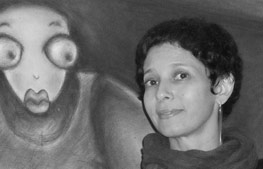 Nadia Rais was born in Tunis in 1967. She has a Master's degree in art science and techniques, specialising in graphic design. She worked for two years on a feature-length animated film as an animator and illustrator, then spent several years working in advertising, on campaigns and animated films. She is a founding member of the Tunisian Association for Animated Movies. Recently, Rais began exhibiting her paintings. Her short films are 'L' Ambouba' (2009) and 'L' Mrayet' (2011).
Production Company Profile
Founded in 2002 by Imed Marzouk and Nejib Belkadhi, Propaganda Production produces short and feature-length fiction and documentary films. Belkadhi's 'VHS Kahloucha' (2006), which was an Official Selection at the Festival de Cannes, screened in competition at Sundance and won a Gold Muhr at the Dubai International Film Festival; his 'Bastardo' had its world premiere at the Toronto International Film Festival in 2013. Short films include Belkadhi's 'Tsawer' (2005); Malik Amara's 'Linge Sale' (2010); Walid Mattar's 'Condamnations' (2010) and 'Offerings' (2011); and Nadia Raïs's 'L'Mrayet' (2011) and 'Survival Visa' (2014).
Contacts