Survival Visa
Spring Grant 2013 - Production Stage
Current project status: COMPLETED
Synopsis
When disaster strikes, the NASA (National Agency Survival & Arabic) publishes a call for applicants for a limited number of Survival Visas.
Credits
Director

Nadia Rais

Screenwriter

Nadia Rais

Producer

Imed Marzouk
About the Director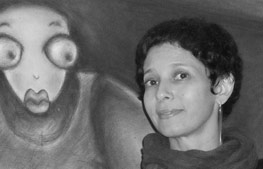 Nadia Rais was born in Tunis in 1967. She has a Master's degree in art science and techniques, specialising in graphic design. She worked for two years on a feature-length animated film as an animator and illustrator, then spent several years working in advertising, on campaigns and animated films. She is a founding member of the Tunisian Association for Animated Movies. Recently, Rais began exhibiting her paintings. Her short films are 'L' Ambouba' (2009) and 'L' Mrayet' (2011).
Production Company Profile
Propaganda Production is a Tunisian broadcasting company, created in 2002 by Imed Marzouk and Néjib Belkadhi. Its primary activities include the production of short and feature-length films, documentaries, broadcast series, and commercials. Notable projects include 'VHS-Kahloucha' (2006) and 'Bastardo' (2012), both by Néjib Belkadhi; 'And Romeo Married Juliet' (2014) by Hinde Boujemaa; and 'As I Open My Eyes' (2014) by Leyla Bouzid.
Contacts