2 Rooms and a Parlor
Spring Grant 2013 - Production Stage
Current project status: Production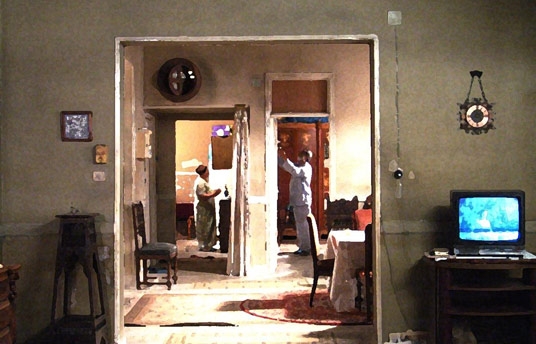 Synopsis
Khalil Suleiman has always preferred to stay away from other people, but after his wife's death, he finds he is lonely. Realising his routine life is coming to its end before he has explored it fully, he decides to take a trip to Panama. His plans come up against many obstacles. He has no passport and only speaks Arabic – and his son disapproves of his plans. Solving these problems and making travel arrangements forces Khalil to revisit his complicated relationship with his son and to become involved in the lives of his neighbours – all of whom are people he has avoided in the past. As Khalil gets closer to each of his neighbours and his son, and his travel date looms on the horizon, he finds his old ways of thinking
are changing.
Credits
Director

Sherif Elbendary

Screenwriter

Mohamad Elazab

Producer

Mohamed Hefzy, Racha Najdi
About the Director
Sherif El Bendary graduated from the Faculty of Applied Arts at Helwan University and studied film directing at the High Institute of Cinema in Cairo. He has taught film directing since 2008. His first short, 'Rise & Shine' (2006), showed at 75 film festivals and won 15 awards. 'At Day's End' (2008), El Bendary's second short film and graduation project, participated in 50 film festivals and won 14 awards. His short 'Curfew' was part of the collective feature '18 Days', an official selection at the Cannes Film Festival in 2010.
Production Company Profile
Renowned producer and scriptwriter Mohamed Hefzy founded Film Clinic in 2006. Film Clinic is recognised as one of the leading production companies in the MENA region as a result of its creation of unique feature films and documentaries that tell unprecedented stories of people, places, and philosophies. In 2011, Film Clinic produced the award-winning films 'Asmaa' and 'Tahrir 2011', which had significant impact in the MENA region and touched audiences worldwide. Through its screenwriting workshops, Film Clinic also acts as a mentor to numerous aspiring filmmakers who seek inspiration and encouragement. Our philosophy is to blend the creative, vibrant ideas of the younger generation with the knowledge of top cinema experts, in an aim to present powerful films on the big screen.
Contacts