1982
Spring Grant 2015
Current project status: PRODUCTION
Synopsis
With the academic year about to end at a school tucked safely in the mountains of Lebanon, 11-year-old Wissam decides to tell his classmate, Joanna, that he loves her, but his various attempts fail due to faltering courage. Studies are interrupted one day when an air strike hits Beirut and shatters the school's calm. The students are sent home and Wissam realises no one knows what tomorrow will bring and decides it's now or never. In spite of the escalating chaos, he strives to overcome all obstacles in his path to reach Joanna. A story of first love set against the backdrop of the 1982 blitz of Beirut, on a day these two youngsters will never forget.
Credits
Director

Oualid Mouaness

Screenwriter

Oualid Mouaness

Producer

Georges Schoucair, Michel Zana, Oualid Mouaness, Thanassis Karathanos
About the Director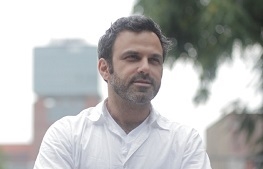 Oualid Mouaness is an independent writer, director and producer working in the United States, Europe and the Middle East. After receiving his MFA in film writing and directing, he had his start at Blue Tulip Productions and brief stint at Fox Kids Network before leaving to produce Mari Kornhauser's 'Kitchen Privileges' (2000). Shortly after that he ran Windmill Lane, a commercial and music-video production company from 2002 to 2005. In 2005, he took on the documentary 'Rize' (2005) directed by David LaChapelle , followed by Adria Petty's 'Paris Not France' (2008). Alongside producing documentaries and films, Mouaness was responsible for high-profile music videos for artists including Katie Perry, Justin Timberlake and Lana Del Rey, and more recently projects with David Bowie under the direction of Floria Sigismondi. In addition to bridging the social and the political through films and documentaries, his outfit Tricycle Logic has expanded to include projects that cover a wider spectrum of media as well as live visual experiences, namely Michael Jackson's posthumous live performance of 'Slave to the Rhythm' (2014), Annie Lennox's 'Nostalgia' (2015) for PBS, and the documentary 'I Am Thalente' (2015). He has directed several short films including 'Saint in the Sun' (2002) and 'The Rifle, the Jackal, the Wolf and the Boy' (2015). '1982' is his first feature as director.
Production Company Profile
Abbout Productions produces feature films and documentaries with a distinctly Arab voice, expressing the identity of the region. Since 1998, the company managed to bring together an important network of Arab and Lebanese artists and produced award winning films such as A Perfect Day (2005), I Want to See (2008) and The Lebanese Rocket Society (2012) by Joana Hadjithomas and Khalil Joreige, The Last Man (2006) and The Valley (2014) by Ghassan Salhab, Stray Bullet (2010) by Georges Hashem, Melodrama Habibi (2007) by Hany Tamba, Ladder to Damascus (2013) by Mohamad Malas and Tramontane (2016) by Vatche Boulghourjian. Abbout Productions has a strong partnership with MC Distribution, a distribution company dedicated to promote new films from the Middle East along with direct and priority access to the sole art house theater in Lebanon, Metropolis Cinema. Abbout Productions' main objective remains to help structure the Lebanese and Arab cinema craft into a solid industry.
Tricycle (Lebanon), a recently formed production entity, is a subsidiary of Tricycle Logic (US), which has been in operation since 2000. Oualid Mouaness, the principal of Tricycle, has a track record of producing award-winning, socially conscious films, as well as high-profile commercials, music videos and live events. Tricycle's main objective in establishing a presence in the Middle East is to embark on facilitating Levant-centric projects, with the belief that the best way to effect positive change in the world is through storytelling and the arts – and most effectively through film. With its strong network and deep-rooted connections providing access to some of the strongest entities in the US, Tricycle aims to offer a bridge for Middle Eastern films to tap the North American market and its audience. Mouaness was a co-producer and editor of Mari Kornhauser's 'Kitchen Privileges' (2000), line producer of David LaChapelle's 'Rize' (2005), and a producer of Adria Petty's 'Paris Not France' (2008). More recently, Mouaness co-produced Fouad Mikati's 'Return to Sender' (2014). Tricycle's latest passion project is a co-production with South Africa: the life-affirming skateboarding documentary 'I Am Thalente' by Nathalie Johns.
Contacts