1982
Spring Grant 2015 - Production Stage
Current project status: POST-PRODUCTION
Synopsis
Summer, 1982. Wissam, an 11-year-old boy, is determined to tell Joanna, a girl in his class, that he loves her. Final exams are underway in their school, tucked safely in the mountains overlooking Beirut. As Wissam yearns to express himself, an air invasion reaches the capital. The students are sent home, and Wissam's determination grows as it becomes clear to him that no one knows what tomorrow will bring. This story of first love portrays a day the kids will never forget.
Credits
Director

Oualid Mouaness

Screenwriter

Oualid Mouaness

Producer

Georges Schoucair, Oualid Mouaness, Alix Madigan, Myriam Sassine, Christopher Tricarico
About the Director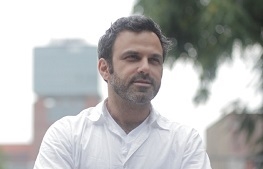 Oualid Mouaness, a Sundance Screenwriting Fellow, grew up between Lebanon and Liberia. After receiving his undergraduate degree with honours from the Lebanese American University in Beirut, Mouaness acquired an MFA in Writing and Directing from Florida State University. He went onto a dense producing career in narrative and documentary films, videos and commercials, most notably David LaChapelle's 'Rize' (2005), Mari Kornhauser's 'Kitchen Privileges' (2000), and Adria Petty's 'Paris, Not France' (2008). He has directed several short films, the last of which, 'The Rifle, the Jackal, the Wolf and the Boy', which was shortlisted for an Academy Award.
Production Company Profile
Abbout Productions produces feature films and documentaries with a distinctly Arab voice, expressing the identity of the region. Since 1998, the company managed to bring together an important network of Arab and Lebanese artists and produced award winning films such as A Perfect Day (2005), I Want to See (2008) and The Lebanese Rocket Society (2012) by Joana Hadjithomas and Khalil Joreige, The Last Man (2006) and The Valley (2014) by Ghassan Salhab, Stray Bullet (2010) by Georges Hashem, Melodrama Habibi (2007) by Hany Tamba, Ladder to Damascus (2013) by Mohamad Malas and Tramontane (2016) by Vatche Boulghourjian. Abbout Productions has a strong partnership with MC Distribution, a distribution company dedicated to promote new films from the Middle East along with direct and priority access to the sole art house theater in Lebanon, Metropolis Cinema. Abbout Productions' main objective remains to help structure the Lebanese and Arab cinema craft into a solid industry.
Tricycle (Lebanon), a recently formed production entity, is a subsidiary of Tricycle Logic (US), which has been in operation since 2000. Oualid Mouaness, the principal of Tricycle, has a track record of producing award-winning,
socially conscious films, as well as highprofile commercials, music videos and live events. Tricycle's main objective in establishing a presence in the Middle East is to embark on facilitating Levantcentric projects, with the belief that the best way to effect positive change in the world is through storytelling and the arts.
Contacts
Main Contact

Myriam Sassine

Company:

Abbout Productions

Phone:

+961 1 587824

Email:

contact@abboutproductions.com

Production Company

Abbout Productions

Company:

Alegria Production

Phone:

+961 1 587824

Email:

contact@abboutproductions.com