Landscape in the Mist (Topio stin omichli)
DFI Cinema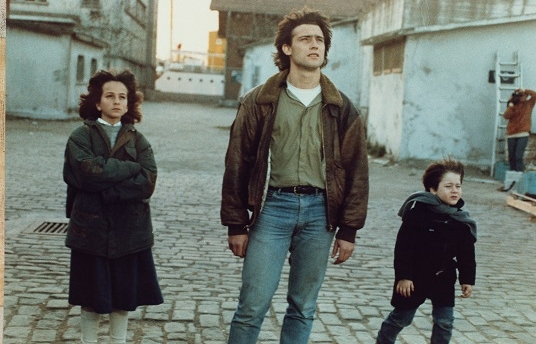 Screenings
Tickets sales closed
Synopsis
Young Voula and her five-year-old brother Alexandros board a train from Athens bound for Germany, in search of their father, whom they have never met. Over the course of this coming-of-age road trip through Greece, the two determined youngsters will learn several of life's lessons – some of them rather harsher than others.
In 'Landscape in the Mist', Theo Anglelopoulos presents us with a contemporary world where, as the film's title suggests, what is important has somehow been obscured. We see this in the children's missing connection to their father; in a scene where a horse lies dying in the street, ignored by revellers at a wedding party; in a moment when villagers are transfixed by falling snow, as if they have forgotten what nature is.
Eleni Karaindrou, who worked with Angelopoulos for much of his career, provides a score that is often sweeping and pastoral ¬– seemingly at odds with the stark grey of the skies, towns and beaches where the film's action takes place. It is as though this glorious sound is emanating from the unseen landscape, reminding us of the beauty that is out there beyond the mist.
About the Director
After coming to international attention in the 1970s with a trilogy of films about his homeland, Greek director Theodoros Angelopoulos was considered one of the world's greatest filmmakers until his untimely death in 2012. Among his many noteworthy films are 'Landscape in the Mist', which won the European Film Award for Best Film in 1989, and 'Eternity and a Day', which was awarded the Palme d'Or at the Festival de Cannes in 1998.
Credits
Director

Theodoros Angelopoulos

Screenwriter

Theodoros Angelopoulos, Tonino Guerra, Thanassis Valtinos

Producer

Theodoros Angelopoulos, Eric Heumann, Amedeo PAgani, Stéphane Sorlat

Music

Eleni Karaindrou

Cinematographer

Giorgos Arvanitis

Sales Company

Theo Angelopoulos Heirs Association

Cast

Tania Palaiologou, Michalis Zeke, Stratos Tzortzoglou